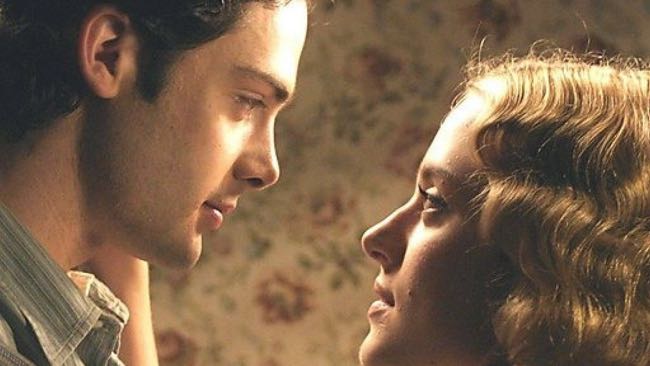 By Ray Bennett
LONDON – Like a romance-novel version of one of Michael Palin's "Ripping Yarns," Julia Taylor-Stanley's costume picture "These Foolish Things" has a dewy-eyed heroine, two rivals for her affection, kindly aunts, dastardly villains, and irony-free dialogue guaranteed to provoke laughter. Sadly, the film is a drama.
A fable about English stage folk in the period leading up to World War Two, it's a handsome production featuring appealing players but the jaw-dropping clichés come so thick and fast that its attempts at heartwarming drama dissolve in hilarity. Given a royal premiere on Wednesday and released in the United Kingdom Friday, wide distribution will depend upon finding forgiving audiences.
Diana Shaw (Zoe Tapper) is an aspiring actress who wishes to follow in the footsteps of her celebrated mother Lily (Charlotte Lucas), who died tragically young while taking a standing ovation. Forced to be brought up in luxury in the country surrounded by insensitive cousins, Diana saves her pennies so that one day she may go to London and audition for something, anything really.
No sooner has she arrived than she bumps, literally, into a young playwright who, would you believe, spills the pages of his new play onto the ground. It is as they bend to pick up these pages that the youngsters gaze into each other's eyes and you know the rest.
Handsome and ambitious, the young man, Robin (David Leon, pictured with Tapper), soon has Diana ensconced in a nicely furnished room at the boarding house where he lives too. Their landlady is a woman of Scottish descent, Mrs. Abernathy (Julia McKenzie), who not only keeps theatrical posters on the walls of her home but also doesn't mind at all when the dreamy-eyed young people fail to pay the rent. And she serves a fine pot of tea by the fire when it's wet.
Robin is desperately keen to have his play produced and Diana is just as keen to star in it. This requires a producer, of course, and that can only mean the flamboyant American rich person Lottie Osgood (Anjelica Huston), who squanders her piles of inherited cash on any old rubbish.
To gain her attention, the sweethearts decide they need a star name and since nasty old cousin Garstin (Leo Bill) is best friends with matinee idol Douglas Middleton (Mark Umbers), that's who they turn to. This is despite the fact that Garstin is a cast-iron Victorian swine of the first order who would twirl his mustache if only he had one.
As for Middleton, he turns out to be a gay blade with designs not on the nubile young Diana but on her vulnerable suitor, and soon they're all up to their elegantly posed elbows in schemes and wicked wheezes that would make a stage doorman grin.
In fact one does, an elderly chap named Albert played by Joss Ackland who gets to tell Lauren Bacall, in a cameo as an ageing English actress named Dame Lydia, how beautiful she remains. She does too.
Meanwhile. Actually there are several meanwhiles. One of them involves Christopher Lovell (Andrew Lincoln), an actor turned director who, if you last that long, turns out to be a Battle of Britain pilot.
Another has Terence Stamp in a baffling role as a World War One veteran who used to be rich but lost his wealth in the great stock market crash and now works as a butler but is also Lottie Osgood's showbiz advisor, musical director and possible lover.
At least the two of them appear to be enjoying themselves.
Opens: UK: March 10 (Swipe Films); Cast: Anjelica Huston, Zoe Tapper; Charlotte Lucas, David Leon, Julia McKenzie, Andrew Lincoln, Terence Stamp, Lauren Bacall, Mark Umbers, Joss Ackland,  Roy Dotrice, Haydn Gwynne, Leo Bill, Eve Myles, Jamie Glover, Nickolas Grace; Director and writer: Julia Taylor-Stanley; Director of photography: Gavin Finney; Production designer: Chris Townsend; Editor: David Martin; Art director: Ben Smith; Music: Ian Lynn; Producers: Paul Sarony, Taylor-Stanley; Executive producers: Carola Ash, Neil Dunn, Keith Northrop, Michael Whyke; Production: Presented by Swipe Films and Porpoise Productions in association with Micro Fusion 2004 4 LLP; UK rating: 12A); running time, 106 mins.
This review appeared in The Hollywood Reporter.