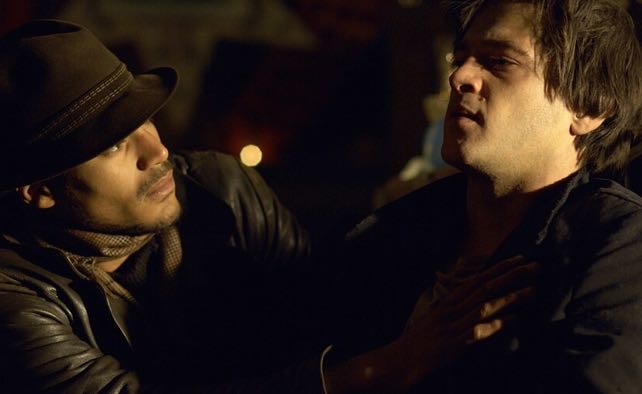 By Ray Bennett
VENICE – Although director and writer Penny Woodcock's post-apocalyptic fable "Exodus" wears its heart on its sleeve and occasionally staggers under the weight of its earnestness, it's an engaging piece of work.
Woodcock places the story from the second book of the Old Testament in a future England where Pharoah (Bernard Hill) is a local politician and Moses (Daniel Percival) is his adopted son. It's a time when anyone not lilywhite has been lumped together — minorities, asylum-seekers, rebels, criminals, deviants — and walled into a place called Dreamland.
It's a ghetto familiar from films such as "Mad Max Beyond Thunderdome" and "Children of Men," and Moses ends up there when he causes the death of a guard who is threatening a young woman.
All the key points of the Biblical story are touched upon as Moses stands up to Pharoah and strives to free what have become his people. Well-made and acted with enthusiasm, the film is another Channel 4 production and should do well at the boxoffice on its travels abroad. It screened in the Horizons sidebar of the Venice International Film Festival.
Daniel Percival is Moses, a young man first seen as a baby abandoned for safekeeping on a beach by his Romany mother. He is found by Batya Mann (Ger Ryan) whose husband Pharoah becomes the leading politician 20 years later when the world is in uproar.
Moses is a marine scientist with only academic plans, but when he visits Dreamland he becomes a changed man. Not only does he learn about his real background from activist Aaron (Anthony Johnson) but also he falls in love with the woman he saved from the guard, Zipporah (Clare-Ashitey, from "Children of Men").
The population of Dreamland is deprived, hungry and constantly threatened by the roaming "pest control" — soldiers with masks and rifles. Moses negotiates with Pharoah for the walls to be pulled down, but it takes measures of Biblical proportions before something happens.
Woodcock invents clever modern variations on the Old Testament plagues involving poisoning the ocean and spreading viruses on the Internet. Production designer Christina Moore created Dreamland in a disused funfair that had the same name in the seaside town of Margate, Kent, that was once a haven for working-class holidaymakers.
Cinematographer Jakob Ihre captures it well. There's also an impressive bit of business involving a 25-meter tall funeral pyre in the figure of a man made from trash and old furniture created for the film by artist Antony Gormley. Such images help the film overcome its occasional awkwardness and tendency to preach.
Cast: Bernard Hill; Daniel Percival; Ger Ryan; Clare-Hope Ashitey; Anthony Johnson; Delroy Moore; Michael Tulloch; Justin Smithers; Matthew Smith; Director, writer: Penny Woodcock; Director of photography: Jakob Ihre; Production designer: Christina Moore; Music: Malcolm Lindsay; Costume designer: Suzanne Cave; Editor: Brand Thumim; Producer: Ruth Kenley-Letts; Executive producer: Michael Morris; Production: Artangel, Channel 4; No rating; Running time, 111 minutes.
This review appeared in The Hollywood Reporter.