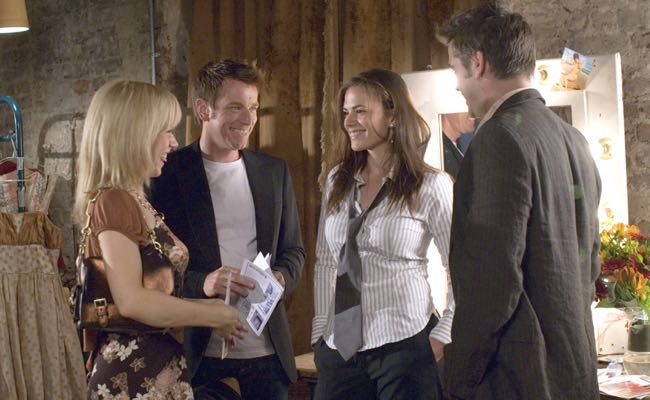 By Ray Bennett
VENICE, Italy — Woody Allen's "Cassandra's Dream" is a humourless misfire that wastes the talents of some fine actors including Ewan McGregor, Hayley Atwell and Tom Wilkinson as it continues the mystery of Colin Farrell's appeal to major filmmakers.
As writer, Allen offers lazy plotting, poor characterization, dull scenes and flat dialogue. As director, he makes no demands on the abundant talents of cinematographer Vilmos Zsigmond and composer Philip Glass. He employs predictable and illogical London and countryside locations. And he abandons good players to do what they can with the material at hand while he allows Farrell to mumble his way through another indifferent performance.
The film, screened in the Venice Masters sidebar of the Venice International Film Festival, has minimal boxoffice prospects, and only McGregor and Allen completists are likely to want it on their DVD shelf.
McGregor and Farrell play unlikely brothers who become enmeshed in a plot by a rich uncle to murder a disgruntled employee whose testimony in court could send him to prison for life. Ian (McGregor) is a clean-cut dreamer who helps his worn-down father run a small restaurant and borrows fancy cars to impress women. Terry (Farrell) is an unshaven lout who works as a car mechanic, drinks too much and likes to bet on the ponies.
Nevertheless, the brothers are able to pool resources for the purchase of a good-looking boat they name "Cassandra's Dream" after a horse that recently came in for Terry.
Even with this outlay, Ian is able to make plans to invest in a scheme to build hotels in California and to woo a beautiful young actress named Angela (Atwell). Terry finances a home for his bubbly wife Kate (Sally Hawkins) and buys a seat in a big-time poker game.
When Terry loses £90,000 at poker, they turn in desperation to fabulously wealthy Uncle Howard (Wilkinson) who just happens to be visiting London from his sumptuous home in Los Angeles where he oversees a global chain of plastic surgery clinics.
Uncle Howard is willing to pay off Terry's debts and provide the funds for Ian's hotel dreams if they will do him a little favor. His empire is about to come crashing down and he will go to jail unless he can prevent a man named Martin Burns (Phil Davis) from testifying. He has to be killed. "I see no alternative," says Uncle Howard.
At first unwilling, the brothers talk themselves into the crime and the rest of the picture follows their attempts at murder and its dire consequences. But it is played out with not a shred of wit or tension. Key plot points beggar belief: that jittery, pill-taking Terry knows how to play poker or that any loan-shark would allow him to build up such a huge debt; that Uncle Howard, having global resources including businesses in China, would have to resort to his witless nephews to get him out of a jam; and that two basically decent and humble blokes would so readily commit murder.
It's all contrivance, and Allen does none of the things required in a movie to establish verisimilitude. There's no comment on the lives of the two young men and scenes involving Atwell and her theatrical chums have no bite. Atwell is a major find, however, and like McGregor and Wilkinson, and the rest of a good cast, will go on to better things. Where Allen and Farrell go now is a sadder question.
Venice International Film Festival (Venice Masters)
Cast: Ewan McGregor; Colin Farrell; Hayley Atwell; Sally Hawkins; Tom Wilkinson; Phil Davis; Clare Higgins; Tamzin Outhwaite; Director, writer: Woody Allen; Director of photography: Vilmos Zsigmond; Production designer: Maria Djurkovic; Music: Philip Glass; Costume designer: Jill Taylor; Editor: Alisa Lepselter; Producers: Letty Aronson, Stephen Tenenbaum, Gareth Wiley; Executive producers: Vincent Maraval, Brahim Chioua, Daniel Wuhrman; Co-executive producers: Jack Rollins, Charles H. Joffe; An Iberville production; No MPAA rating, running time 108 minutes.