Cigarette in hand, Joni Mitchell was in fine form on the BBC's Sunday morning public affairs program "The Andrew Marr Show" today. Speaking from Los Angeles, Mitchell was unapologetic about releasing "Shine," her first album in about 10 years, through Starbucks.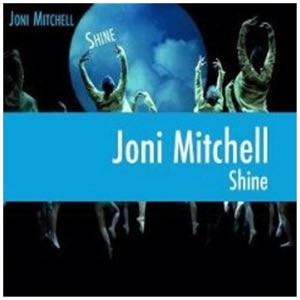 She said, "Cigarettes and coffee are my two vices, and Starbucks has been very good to me. Sorry."
The Canadian artist denied that she was ever a folk singer and said she has been smoking since she was 9 but it had nothing to do with shaving the top octave from her singing voice: "I had three octaves but I blew out the top register doing rock 'n' roll."
When Marr asked if fans were likely to see her in concert, Mitchell said she didn't enjoy performing — "I always felt inadequate" — and nor did she think she could hold a room as a performer. Not many artists can, she said, "Maybe Prince, and Jagger runs back and forth. But rock 'n' roll is dance music. Why are we sitting there watching performers?"
Reviewers have been kind to the new release: "A strange, intoxicating and unsettling album," from Alexis Petridis in The Guardian; "One hell of a comeback" from Jon Lusk at bbc.co.uk.
Here is an EPK for "Shine" on YouTube