By Ray Bennett
LONDON – Audiences who flock to see "Othello" at the Donmar Warehouse because of stars Ewan McGregor and Chiwetel Ejiofor will not be disappointed, but it's Shakespeare's women who steal the show.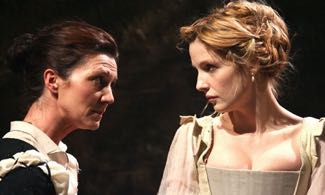 Kelly Reilly and Michelle Fairley (left) are mesmerizing as the wives whose faith in their men is betrayed wickedly. Reilly is heartbreaking as the faithful but doomed Desdemona, and Fairley brings flint to a woman who finally sees how she has been duped.
Ejiofor captures the nobility and trusting nature of the warrior Othello, while McGregor portrays the duplicitous Iago as a cur, eager for his master's approval while doing everything he can to destroy him.
Director Michael Grandage presents the play on a bare stage with a bleak wall as the backdrop and gives full rein to Christopher Oram's design, Paule Constable's lighting and Adam Cork's music and sound to enhance the drama.
It works beautifully, and Grandage wastes no time in setting the story in motion with Iago declaring his hatred for Othello vividly in the first scene. Through voice and gesture, McGregor makes it clear that Iago's loathing is not only because Othello has appointed another to be his lieutenant but also because he is black and has claimed the delectable Desdemona.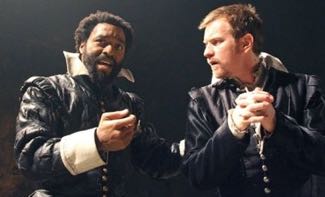 Ejiofor renders Othello's speeches about being an unruly Moor with vigor and charm, and it is quite clear how he has won his bride. It equally is no surprise that others covet her, including the estimable Cassio, played with tremendous verve by Tom Hiddleston.
When Othello's command moves from Venice to the island of Cyprus, Iago is given the chance to solicit another lovelorn suitor, Roderigo (Edward Bennett), to murder Cassio and convince Othello of his wife's infidelity.
Everything goes badly, of course, but while most renderings might have emphasized Shakespeare's iconic detailing of love and betrayal between two men, Grandage highlights the impact on their wives.
It makes for scintillating drama. There is a wonderful scene when Desdemona has realized that her husband has rejected her and she sings of another's lost love. Emilia helps Desdemona out of her stiff corsets as she sings the lament, "Willow, willow, willow." Reilly captures the moment perfectly, her voice whispery but strong as being freed from her clothing's constraints foreshadows a sadder release.
It might have been Othello who loved not wisely but too well, but it was Desdemona who paid the price, and this superb production won't let you forget it.
Venue: Donmar Warehouse, runs through Feb. 23; Cast: Chiwetel Ejiofor; Ewan McGregor; Kelly Reilly; Michelle Fairley; Tom Hiddleston; Edward Bennett; Michael Hadley; Michael Jenn; Martina Laird; James Laurenson; Playwright: William Shakespeare; Director: Michael Grandage; Designer: Christopher Oram; Lighting designer: Paule Constable; Composer/sound designer: Adam Cork.
This review appeared in The Hollywood Reporter.