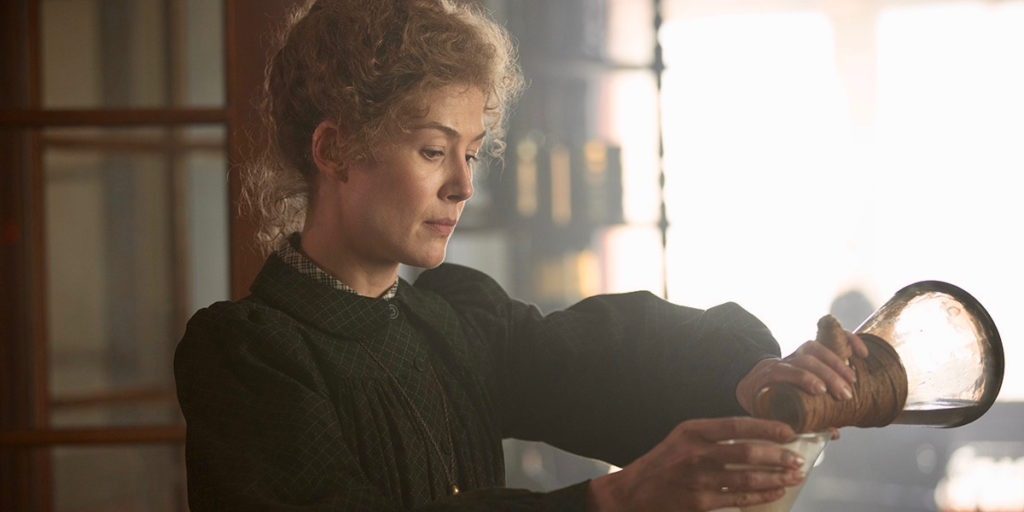 By Ray Bennett
LONDON – Working Title's 19th-century biopic "Radioactive", starring Rosamund Pike (pictured) as Nobel Prize-winning scientist Marie Curie, will have its world premiere at the closing gala of the Toronto International Film Festival on Sept. 14.
Organisers announced a first raft of 18 galas and 38 special presentations including 29 world premieres and six international debuts for the 44th TIFF, which runs Sept. 5-15.
"Radioactive", produced by Working Title's Tim Bevan and Eric Fellner and Paul Webster of Shoebox Films, is based on a graphic novel by Lauren Redness that tells of Marie Curie's work and relationship with fellow scientist Pierre Curie, played by Sam Riley ("Maleficent"). The film is directed by Iranian filmmaker Marjane Satrapi, who was nominated for an Academy Award for her 2007 animated feature "Persepolis".
British filmmaker Roger Michell's "Blackbird", starring Kate Winslet, Sam Neill and Rainn Wilson in a drama of a terminally ill woman who tries to get her family back together, also will have its world premiere at a TIFF gala.
Other British films to have world premieres at the festival will include Armando Iannucci's "The Personal History of David Copperfield" starring Dev Patel, Ben Whishaw, Tilda Swinton and Hugh Laurie; Lisa Barros D'Sa and Glenn Leyburn's "Ordinary Love" starring Liam Neeson and Lesley Manville; Michael Winterbottom's "Greed" starring Asa Butterfield and Isla Fisher; William Nicholson's "Hope Gap" starring Annette Bening and Bill Nighy; Coky Giedroyc's "How to Build a Girl" starring Emma Thompson and Beanie Feldstein ("Booksmart") and Peter Cattaneo's "Military Wives" starring Sharon Hogan ("Women on the Verge") and Kristin Scott Thomas.
Marielle Heller's "A Beautiful Day in the Neighborhood" starring Tom Hanks as legendary American children's television host Fred Rogers will have its world premiere at a gala. Matthew Rhys ("The Americans") co-stars as a journalist who interviews him while going through troubles with his own father, played by Chris Cooper ("Adapatation"). 
Other titles with world premieres include Jill Culton's animated feature "Abominable"; Lorene Scafaria's "Hustlers" starring Jennifer Lopez; Justin Kursel's "True History of the Kelly Gang" starring George MacKay, Russell Crowe and Charlie Hunnam; Destin Daniel Cretton's "Just Mercy" starring Brie Larson, Michael B. Jordan and Jamie Foxx; and Francois Girard's "The Song of Names" starring Tim Roth and Clive Owen.
More films will be announced over the coming weeks.