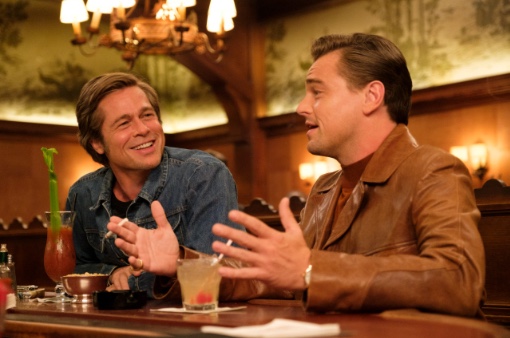 By Ray Bennett
Quentin Tarentino's 'Once Upon a Time … in Hollywood' is a lazy, self-indulgent and violent story about the unrequited love of a movie stuntman for a two-bit action star. Set in 1969, it's a laboured bromantic comedy in which Cliff Booth, played by Brad Pitt, swans about trying to catch the eye of his employer, Rick Dalton (Leonardo DiCaprio), who is too self-involved to see. It's as if Richard Gere doesn't notice Julia Roberts in 'Pretty Woman'.
Homoeroticism in buddy films was always hidden in Hollywood's golden age, typified by John Wayne's affair with Montgomery Clift in 'Red River' with Walter Brennan a cackling matchmaker. Their lovemaking took the form of punching each other in the face. 'Brokeback Mountain' took a more open approach although filled with shame and guilt. The male lovers couldn't be cowboys, though. They were shepherds who did more than tend their flock at night.
Tarantino puts his heroes firmly back in the closet even as Pitt (above) preens and swaggers, shows off his six-pack, fawns over Dalton with praise – he tells a TV interviewer that his job for the star is 'to carry his load' – and figuratively lives at the foot of his bed … in a shabby trailer in the Valley while Dalton has a mansion in Beverly Hills. Booth's only involvement with women, other than violently, is to turn down a blowjob from a boyish teenaged hitchhiker on the grounds that she's underage.  A nasty piece of work with the reputation of having killed his wife, Booth relishes dishing out violence to an uppity Asian kung-fun star and a grinning idiot at the studio ranch where followers of an obscure cultist named Charlie Manson gather like creatures in a village of the damned. 
Over 161 tedious minutes, the film follows the pair as the stuntman mostly drives around Hollywood and the star tries to save his career with a stint in Italy making spaghetti westerns and war thrillers. The production team make the film look good and there are gratuitous but pleasing recreations of iconic Hollywood nightspots.
Tarentino's key characteristic is his inability to create anything original so his recreation of clips from the trashy Italian pictures are spot on. Not so the clips from Rick Dalton's TV western 'Bounty Law', which are just awful. Tarentino apparently doesn't know that many of those Fifties and Sixties action TV shows were made by filmmakers way out of his league such as Robert Altman, Sam Peckinpah, Ida Lupino, Andrew V. McLaglen and Richard Donner.
Dalton comes back from Europe with an Italian wife and a fully functioning flame thrower, which we learn later he keeps fueled up in his garage. Tarentino apparently believes they use real weapons on movie sets. The actor starts playing villains on series TV and editor Fred Raskin includes a priceless shot of a geniunely charismatic TV star, Timothy Olyphant, in patient exasperation over his co-star's incompetence.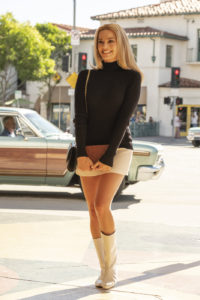 Pitt strolls through the picture as you would if you were paid a great deal of money to hang out in the sunshine with almost no work to do. DiCaprio stresses and strains as the no-talent cowboy actor while Al Pacino (pictured top with Pitt and DiCaprio), Bruce Dern, Emile Hirsch and Kurt Russell have forgettable cameos.
Margot Robbie (left) also has very little to do as starlet Sharon Tate except look like the perfect Sixties dolly-bird. Unlike the ineffectual character she plays, Robbie is vivacious and engaging so her short scenes are pleasant even though her director for some strange reason insists that she takes off boots and socks so she can put up dirty feet on the seat in front of her when she goes to the movies.
Since the point of the film is to rewrite history, it's what doesn't happen to Sharon Tate that's important so it's strange that she's in the film at all. The sexual tension between Cliff and Rick does not simmer so much as curdle in the Hollywood sunshine. No sexual climax for them, rather an orgy of violence the director plays for laughs in which women are beaten to a pulp and burned to a crisp. The film is racist, sexist and nasty.
Release date: US: July 26 (Colombia Pictures); UK: Aug. 14 (Sony Pictures); Cast: Leonardo DiCaprio, Brad Pitt, Margot Robbie, Emile Hirsch, Timothy Olyphant, Dakota Fanning, Kurt Russell, Bruce Dern, Al Pacino; Director, screenwriter: Quentin Tarentino; Director of photography: Robert Richardson; Production designer: Barbara Ling; Editor: Fred Raskin; Costume designer: Arianne Phillips; Producers: David Heyman, Shannon McIntosh, Quentin Tarentino; Executive producers: Jeffrey Chan, Georgia Kacandes, Dong Tu; Production: Columbia Pictures, Bona Film Group, Heyday Films; Rating: US: R; UK: 18; running time 161 minutes.