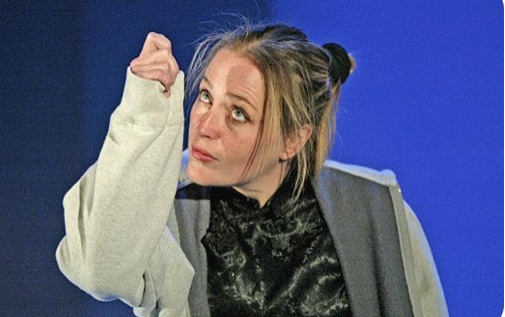 By Ray Bennett
LONDON – At the Royal Court Theatre in April 2004, a  tiny, waif-like creature strolls silently onto a wide, spare stage with the audience still settling and chattering and then suddenly becoming quiet.
There is a window to the rear of what is a painter's gallery and the young woman stares from it for a long time. She comes to the front where her brilliant television eyes make us think we know this person. But any thought of Dana Scully from 'The X-Files' evaporates quickly as Gillian Anderson presents us with another Dana, an artist whose tousled, tied-up hair draws back from a face filled with the misery of failure.
In Rebecca Gilman's ambitiously offbeat play 'The Sweetest Swing in Baseball', Dana is a successful painter who has lost her vision. The showing of her latest works has been a flop. Her agent and art dealer flap around her with the useless babble of middlemen. Then her previously stalwart boyfriend decides finally that he'd rather sit alone on an empty floor in a small apartment than live with her.
Depression strikes and Dana slits her wrists. Discovered in time by her boyfriend, she is sent to recover at a clinic where she spurns the serotonin reuptake inhibitors the doctors rush to prescribe but finds solace in the clinic's dull routine and inspiration from two fellow patients.
Michael (Demetri Goritsas) is a gay recovering alcoholic doing his second detox and Gary (John Sharian) is a violent sociopath in for life because of his obsessive desire to murder a CNN newsreader.
When Dana's medical insurers say they won't pay for her to be there longer than ten days, she decides to fake schizophrenia, choosing the unlikely character of trouble-prone baseball star Darryl Strawberry as her alternate personality.
At that point, the play might easily have descended into absurdity but the reverse occurs as this outlandish premise becomes the fuel for Dana to rediscover her artistic drive and fight the parasites and hypocrites that success inevitably attracts.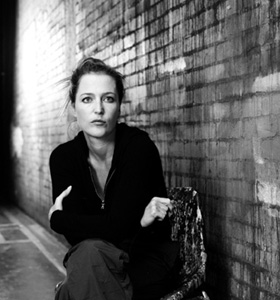 Gilman demeans Strawberry not at all in seeing the humor in a white, painterly and very feminine young woman trying to take on the heft of a brilliant if troubled black athlete. Dana knows nothing of him except what her friends in the clinic tell her. At first, hearing of Strawberry's drug demons and falls from grace, she decides that he's \the most depressing baseball player on the planet'.
But, as she learns more about him, she starts to believe in the sweetest swing and soon she finds she'd rather be Darryl than Dana. Not only that but as Darryl she discovers a renewed passion for painting and her works are acclaimed again.
There's a deliciously subversive touch to Gilman's work here and director Ian Rickson and star Anderson get it entirely. All the players are good with Goritsas managing the difficult, sympathetic role of the gay alcoholic with appealing humor. Kate Harper and Nancy Crane fawn and bristle convincingly as the dealers whose faith in the hollowness of the art world is exposed by Dana/Darryl's honesty.
Sharian is outstanding as the psychotic stalker, a far different kind of sociopath from the movies; he's well medicated and indulgent of others' extremes. With superb comic timing, Sharian delivers a wonderful speech about wannabes whose voluble praise hides envy and resentment.
Best of all is Anderson, who is onstage for all but a few seconds. She understands that she's not impersonating Strawberry; it's only Dana who wants to believe she can be him too. It's a completely winning performance that builds to a final shout of defiance against the robbers of joy and despoilers of souls. She hollers it with belief and fierce humor: 'Fuckers!'
(This review appeared in The Hollywood Reporter on April 6, 2004)