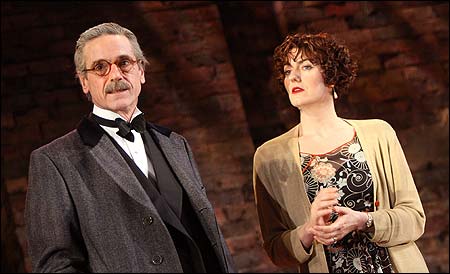 By Ray Bennett
LONDON – Jeremy Irons gives a masterful performance as an old-school politician grappling with a rapidly changing world in "Never So Good" at London's National Theatre, but the play itself offers biography more than great drama.
Irons plays Harold Macmillan, who was the British prime minister from 1957-63 when the Beatles and Swinging London were starting to change the world. Macmillan was wounded five times in World War I, survived a plane crash in World War II, connived with U.S. President Eisenhower to end the 1956 Middle East War over the Suez Canal and was there when President Kennedy faced down the Soviets over the Cuban missile crisis.
But he is best known for having to resign from office following what became tagged as the Profumo Affair when the U.K. minister of war became embroiled in sexual shenanigans with a woman named Christine Keeler, who also was sleeping with a Russian spy. The tale was the basis of Michael Caton-Jones' 1989 film "Scandal," starring Joanne Whalley as Keeler and Ian McKellen as Profumo.
Like Winston Churchill, Macmillan had an American mother, but his was a strident capitalist who never believed her son would be a success at anything other than in the family business of publishing. But the first war changed the young man forever, and playwright Howard Brenton keeps two Macmillans onstage throughout the play, with the younger idealist (Pip Carter) a constant goad for the older pragmatist.
Brenton frames the production with the elderly Macmillan reflecting on his life as his comfortably upper-class existence was cruelly interrupted by the brutalities of war. But his conscience was forever struck by the bravery and suffering of the working-class soldiers.
Director Howard Davies uses dancing interludes to mark the changing decades, and he stages some spectacular pyrotechnics for the battle and crash scenes. Anna Carteret as Macmillan's bullying mother and Anna Chancellor (pictured with Irons) as his unfaithful wife make telling contributions; Ian McNeice is a colorful Churchill.
Irons is superb at conveying the man's shifting emotions, wily political instincts and considerable sadness and regret. He captures his grave dignity and indignation over being ridiculed by the English satirists of the 1960s when the scandal breaks.
It's instructive, however, that the funniest lines in the play are quotes from comedian Peter Cook, who lampooned Macmillan mercilessly as being out of touch even in his presence. Despite Irons' sympathetic performance, the play does not succeed in proving Cook wrong.
Venue: National Theatre, runs through May 24; Cast: Harold Macmillan: Jeremy Irons; Pip Carter; Anna Carteret; Anna Chancellor; Ian McNeice; Anthony Calf; Robert Glenister; Terrence Hardiman; Peter Forbes; Clive Francis; Playwright: Howard Brenton; Director: Howard Davies; Set designer: Vicki Mortimer; Lighting designer: Mark Henderson; Music: Dominic Muldowney; Choreographer: Lynne Page; Sound designer: Paul Arditti.
This review appeared in The Hollywood Reporter.