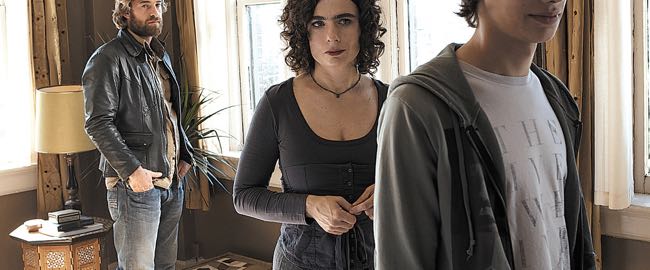 By Ray Bennett
CANNES – Atom Egoyan's remarkable new film "Adoration" is a haunting meditation on the nature of received wisdom and how it can warp individuals, damage families and even threaten society.
Shot on beautifully utilized film but employing images vividly from the Internet and mobile phones, it's an examination of the power that false ideas may have on people's imagination and beliefs when they are repeated over and over.
Featuring an exquisitely measured score for violin, cello and piano by Mychael Danna ("The Sweet Hereafter," "Little Miss Sunshine"), the film treats moviegoers as grownups and it will appeal greatly to audiences that relish articulate and insightful filmmaking.
Structured as a mystery story with shifts in time and scenes from the imagination of characters, Egoyan's intelligent script tells of a high school student named Simon (Devon Bostick) who takes a unique approach to an assignment in his French language class.
Required to translate a news story about a pregnant woman who arrived in Israel with a bomb in her luggage placed there by her boyfriend, Simon imagines himself to be the resulting child with his own dead parents cast as the people involved.
Encouraged by his teacher, Sabine (Arsinee Khanjian), Simon develops the story to the point where his classmates believe his father really was a terrorist and soon it's all over the Internet to the alarm of his uncle, Tom (Scott Speedman), who has raised him since his folks were killed in a car accident.
The boy's late grandfather, Morris (Kenneth Welsh), a condescending bigot and proud of it, always made him believe his Lebanese father (Noam Jenkins) had deliberately caused the death of his adored mother (Rachel Blanchard), and Simon feels he was in some way responsible.
Tom feels accountable too and in a series of well-staged and illuminating scenes, Sabine contrives to help them recognize something closer to the truth.
Bostick, who has to carry much of the film, does so with great aplomb while Speedman and Khanjian provide rewarding portraits of people only slowly coming to terms with great personal loss.
Danna's music maintains the film's high IQ with delicacy and warmth employing wonderful soloists Yi-Jia Susanne Hou on violin, Winona Zelenka on cello, and Eve Egoyan on piano. It's destined to make a very popular soundtrack album.
Venue: Festival de Cannes, In Competition; Cast: Arsinee Khanjian, Scott Speedman, Devon Bostick, Rachel Blanchard, Noam Jenkins, Kenneth Walsh; Director: Atom Egoyan; Screenwriter: Atom Egoyan; Director of photography: Paul Sarossy; Production designer: Phillip Barker; Costume designer: Debra Hanson; Music: Mychael Danna; Editor: Susan Shipton; Producers: Atom Egoyan, Simone Urdl, Jennifer Weiss; Executive: Robert Lantos, Michele Halberstadt, Laurent Petin; Sales: Fortissimo Films. U.S. Distributor: Sony Pictures Classics; No MPAA rating, running time, 100 mins.
This review appeared in The Hollywood Reporter.