By Ray Bennett
LOCARNO, Switzerland – Slow moving and marred by nondescript performances, Chinese filmmaker Pan Jianlin's "Feast of Villains" describes the terrible state of affairs that afflicts the poor when dealing with faceless institutions.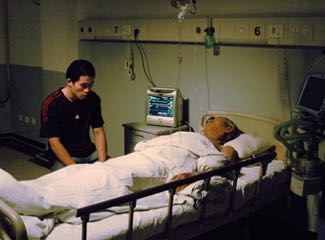 Obviously heartfelt and deserving attention for its dire topic, the film's painfully inert structure and absence of energy in most of its players will limit much exposure beyond sympathetic festivals.
The simple story tells of Fu-gui, a young delivery boy (Zhou Cheng) whose father is chronically ill. Lacking the funds for the expensive drugs that would extend his father's life, the lad takes him home to his squalid digs and tries to raise some cash.
In desperation, he turns to black-market operators who promise to pay big money for a healthy kidney. Maimed in the operation and cheated of his money, Fu-gui returns to find that his father has meanwhile died.
Now the sickly young man must deal with intransigent authorities from the police, the hospital and the local government in order to obtain a death certificate before he can have his father's body properly cremated and interred.
It's a sad tale, all right, but not told with any new insights or suggestions as to what can be done about such things.
Venue: Locarno International Film Festival, In Competition; Cast: Zhou Cheng, Li Geng, Zhao Jinge, Zhou Bin, Sun Peng, Han Shiqiang; Director, screenwriter: Pan Jianlin; Screenwriters: Zhao Xu, Zhou Bin, Zhao Jinge, Sun Peng; Directors of photography: Zhang Yongqian, Xie Peng; Production designer: Jin Zaifeng; Editor: Zhang Jifan; Production: Lao Pan Film Studio; Sales: Ray Production (Beijing) Ltd.; Not rated; running time, 85 minutes.
This review appeared in The Hollywood Reporter.