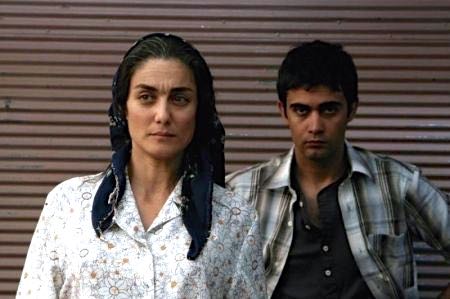 By Ray Bennett
VENICE – Turkish director Semih Kaplanoglu's slow and perplexing feature "Milk" has something to do with how hard it is for young men in rural Central Anatolia to leave their mothers, but its point is obscured in vague scenes and abstract images.
It's a story of a young man who works as a milkman at his mother's small farm and spends most of his time writing poetry but it takes far too long to develop any traction. When it does, the pedestrian pace and labored echoes of mother's milk will leave audiences shaking their heads so that even festival bookings appear iffy.
Melih Selcuk has good screen presence as the young man, Yusuf, who taps away at his manual typewriter when he should be taking care of such things as his mother's motorcycle and sidecar so it's safe to deliver the milk and cheeses she produces. His mother, Zehra (Basak Koklukaya), is a widow who harbors a discreet fondness for the local stationmaster (Serif Erol).
Mother and son work the small herd of cows and Yusuf delivers milk in the nearby town when he's not staring at flowers or the sky. Their lives are disrupted when Yusuf is rejected for the military draft due to a childhood illness and he sees his mother and the stationmaster meeting secretly.
The young man is hard to read as he gives a published version of one of his poems to a construction worker friend and fellow poet whom he eyes longingly, but then he strikes up a conversation with an attractive girl in a bookshop.
Kaplanoglu has many scenes in which not a word is spoken and the camera remains stationary. Other sequences involve inexplicable actions such as when Yusuf tracks a hunter in tall dry grass near some water and is about to crack him over the head with a rock when he spots a large fish and grapples with it instead.
The film begins with an alarming sequence in which a young woman is strung up by her ankles over a cauldron of boiling milk and a snake emerges from her gasping mouth. What it has to do with the rest of the film is a mystery, much like the film itself.
Venice Film Festival, In Competition; Cast: Melih Sekcuk, Basak Koklukaya, Riza Akin, Saadet Isil Aksoy; Director, screenwriter, producer: Semih Kaplanoglu; Screenwriter: Orcun Koksal; Director of photography: Ozgur Eken; Production designer, costume designer: Naz Erayda; Editor: Francois Quiquere; Production company: Kaplan Film Production. Sales: Match Factory; Not rated, running time, 102 minutes.
This review appeared in The Hollywood Reporter.