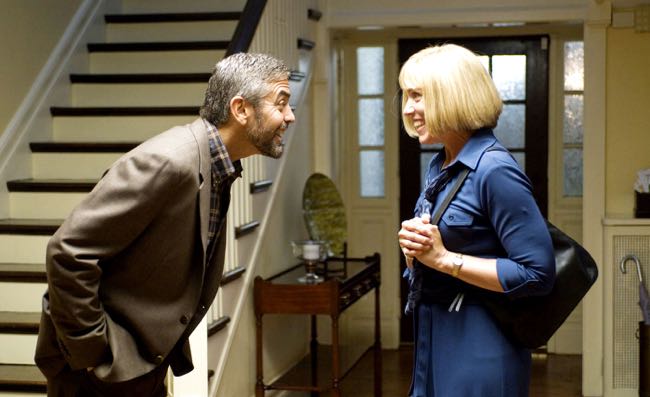 By Ray Bennett
VENICE – When Randy Newman was writing the score for the Mel Gibson western "Maverick," director Richard Donner asked him if he could write some funny music. "Funny music? What's funny music?" asked Newman. "I could stick a trumpet up my ass and blow it that way, if you think that's funny."
It's too bad Carter Burwell didn't say that to the Coen Bros. as his frantic and overbearing score to their lazy new movie "Burn After Reading" shows every sign of trying desperately to be funny.
It's one more disappointment in an unfunny blackmail caper that involves assorted Washington nitwits. The Coens show that even accomplished performers such as George Clooney and Frances McDormand (pictured), John Malkovich, Brad Pitt and Richard Jenkins can be made to look like over-acting amateurs when filmmakers are too self-satisfied and smug to care.
Some critics have have given the film which debuted in Venice and will now play at the Toronto International Film Festival, a bye as it's the Coen Bros. But anyone who rates "Raising Arizona" as one of the best film comedies of the last 50 years, as I do, or has fondness for "The Big Lebowski" or even "The Hudsucker Proxy," as I do, will wonder if the Oscar hasn't gone to their heads. This film looks as if it was written in haste and filmed with utter disdain for the pair's many loyal fans.
Venue: Venice International Film Festival; Cast: George Clooney, Frances McDormand, Brad Pitt, John Malkovich, Tilda Swinton, Richard Jenkins, Elizabeth Marvel, J.K. Simmons; Writers, directors, editors, producers: Ethan and Joel Coen; Director of photography: Emmanuel Lubezki; Production designer: Jess Gonchor; Music: Carter Burwell; Costume designer: Mary Gophers; Executive producers: Tim Bevan, David Diliberto, Eric Fellner, Robert Graf; Production: Focus Features presents, in association with StudioCanal, Relativity Media, Working Tirle, Mike Zoss Productions; Running time, 96 minutes.