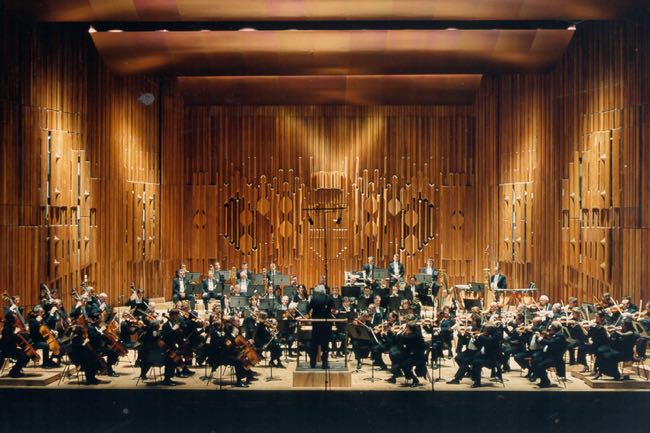 By Ray Bennett
LONDON – The London Symphony Orchestra celebrated its 70-plus years of making music for movies with a sold-out concert at Barbican Hall on April 4 that ended with an enthusiastic standing ovation.
The warm response was sparked by not only hearing some of the finest film music from composers such as John Williams, Patrick Doyle, Trevor Jones and George Fenton but also out of respect for the superb playing of the musicians.
The concert, titled "The LSO: A Life in Film," was interspersed with video interviews of composers including Williams and James Horner, and presenter Tommy Pearson, whose company Red Ted Films, produced the videos, brought onto the stage both Doyle and Jones to say a few words about their music and the orchestra.
Pearson's brief remarks about the LSO's history provided useful context and he leavened the proceedings with amusing asides. Although the LSO's connection with film dates back to the silent era, it's modern popularity in pictures came about after Williams told producer George Lucas that it would be perfect for his score to "Star Wars".
Themes from the original and "The Phantom Menace Suite" were on the program along with the "Superman March" and "Raiders of the Lost Ark". On video, Williams spoke of how playing as unit gave the orchestra "an added edge" that could not be duplicated by session musicians, no matter how brilliant.
Horner, whose many scores were represented by a suite from his Oscar-nominated "Braveheart" (he won for "Titanic"), said the LSO had "a diamond sharp sound and it's quite extraordinary how they do it with music they've never seen before."
Extracts from the score by Arthur Bliss for H. G. Wells' 1936 film "Things To Come" were included plus music from two 1941 films – "The 49th Parallel" by Vaughan Williams, and Richard Addinsell's "Warsaw Concerto" from "Dangerous Moonlight" featuring John Alley on piano. Other scores on the program were George Fenton's "Shadowlands"; Trevor Jones's "The Dark Crystal"; Philippe Rombi's "Joyeux Noel" with violin soloist Carmine Lauri; William Walton's "Henry V"; and Alexandra Desplat's "The Queen".
As fine as they all were, the highlight came from Patrick Doyle's themes from "Harry Potter and the Goblet of Fire," which fully conveyed the joy that the irrepressible Scotsman brings to any gathering.
Conductor for the evening was venerable 93-year-old Harry Rabinowitz, a tiny figure at the podium whose foibles, which included letting the baton fly from his fingers and losing his place in the scores, were forgiven readily by musicians and audience alike.
It didn't matter anyway. So accomplished is this orchestra that, like a modern jumbo jet, it can take off and land all on its own. Doyle said as much afterwards. Once, while conducting the LSO he stopped, shook his head, and said, "You don't really need me, do you."
Read more about the London Symphony Orchestra and more about Tommy Pearson's interviews and podcasts