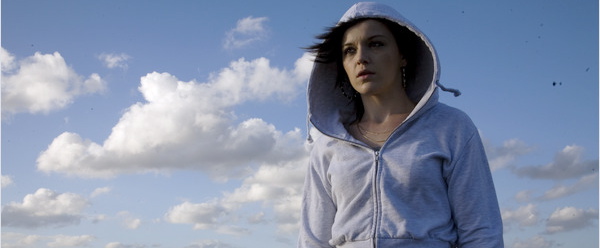 By Ray Bennett
CANNES — Following her Festival de Cannes Jury Prize-winning debut feature "Red Road" in 2006, British director Andrea Arnold creates another vivid portrait of a woman in Competition entry "Fish Tank," in which newcomer Katie Jarvis (pictured) gives a star-making performance as a disaffected teenager.
Co-starring Michael Fassbender ("Hunger") and Kierston Wareing ("It's a Free World"), it's a vivid depiction of a single mom (Wareing) and her two daughters who live in a grim council flat on a decaying housing estate on the outskirts of London.
Destined for festival acclaim, the film will attract audiences drawn by Arnold's gift for unblinking observation and some wonderfully naturalistic acting, particularly by Jarvis, who is onscreen throughout.
She plays Mia, a foul-mouthed, aggressively violent and desperately yearning 15-year-old with a slovenly mother, noisy kid sister (Rebecca Griffith) and dreams of becoming a dancer.
Arnold presents the claustrophobic urban wasteland where they live as a breeding ground for anger and despair.
The arrival of mother's new boyfriend, Connor (Fassbender), brings some hope due to his charming confidence and caring manner.
Mother cleans up the house and Connor takes the kids on outings and encourages Mia in her dancing. The director subtly foreshadows the events that follow and while they comes as little surprise, they play out in credible fashion.
Only one episode of revenge late in the second half stretches plausibility but it does not detract from the film's impressive power. Arnold creates searing scenes that stick in the mind. Her "Red Road" cinematographer Robbie Ryan makes skilful use of handheld cameras while production designer Helen Scott and editor Nicolas Chaudeurge contribute sterling work.
Besides the dancing element, the director weaves in a thread that involves Mia's compassion for an aging horse and captures the tiny moments of affection that provide the glue that just about keeps deprived families sane.
Fassbender and Wareing give honest and open performances as the conflicted adults and young Griffiths, another first-timer, is memorably sharp as the kid sister. The film belongs to Jarvis, however,and she makes the most of it with expressive features that convey Mia's mixed-up emotions from raging temper to sweet vulnerability. She will go far.
Venue: Festival de Cannes; In Competition; UK distributor: Artificial Eye;   Cast: Katie Jarvis, Michael Fassbender, Kierston Wareing, Rebecca Griffith, Harry Treadaway; Director, screenwriter: Andrea Arnold; EDirector of photography: Robbie Ryan; Production designer: Helen Scott; Costume designer: Jane Petrie; Editor: Nicolas Chaudeurge; Producers: Kees Kassander, Nick Laws; xecutive producers: Paul Trijbits, Christine Langan, David M.Thompson; Production: Kasander, BBC Films, UKFC, Limelight;Sales: Contentfilm International; Not rated; running time,124 minutes.
This review appeared in The Hollywood Reporter.