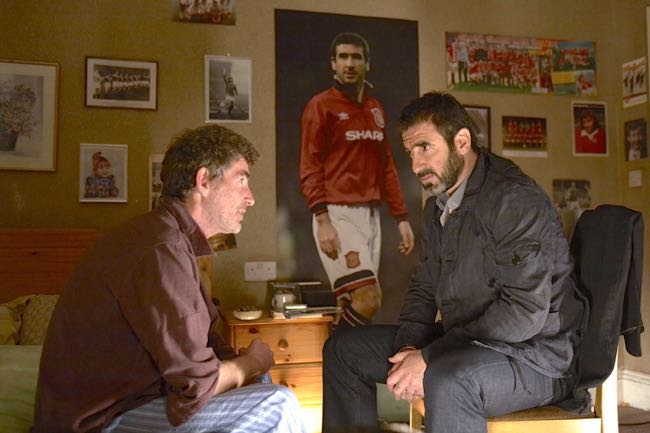 By Ray Bennett
CANNES – The term "crowd-pleaser" is not often attached to the work of Ken Loach, the British Palme d'Or-winning director of films of social realism, but his latest Festival de Cannes Competition entry, "Looking for Eric," is exactly that.
At the press screening, there was laughter throughout, frequent clapping and sustained applause at the end. Loach regular Paul Laverty's script is filled with great gags and the director does his typically polished job of bringing out the best in his actors.
They include former soccer player Eric Cantona (pictured right with Steve Evets), the Frenchman who was unheralded at home but called King Eric at Manchester United, the world's biggest football club.
With Man U having just won the English Premier League title once again and heading to the Champions League final in Rome on May 27, the film's football connection could not be more advantageous. If only the club's millions of supporters around the world go to see it, and they will all want to, the movie will be a hit.
But "Looking for Eric" should connect with moviegoers who enjoy clever comic writing with a touch of fantasy plus fans of any sport that has legendary heroes. It looks set to be Loach's biggest mainstream hit.
The footballer materializes in the home of a sad-sack postal worker also named Eric, played with great energy and flair by Steve Evets, whose latest panic attack leads to him repeatedly driving the wrong way round a roundabout until the inevitable crash.
He escapes unhurt and no one else is harmed but Eric is chastened by his latest attempt to flee the unhappy realities of his life. His second wife split seven years earlier and his two stepsons, Ryan (Gerard Kearns) and Jess (Stefan Gumbs), ride roughshod over him at home.
His mates at work, led by portly Meatballs (John Henshaw), do their best to cheer him up, and there's a hilarious sequence in which they go one at a time to try to make him laugh, but it doesn't help.
Retreating to his own room, which is full of Man U memorabilia and pictures, including a life-sized poster of Cantona, to whom he confides his worries, Eric is startled to discover the genuine article has shown up to listen.
More than that, the iconic star, who was known for quoting obscure sayings, has brought a bunch of his favorite aphorisms and proverbs to help Eric clean up his life and find some happiness. This involves setting his kids straight and trying to make amends with his first love, Lily (Stephanie Bishop), whom he abandoned with their baby decades earlier.
There's a moment in the picture when a shift from high comedy to grim reality, caused by Ryan's involvement with a local hoodlum, is a bit abrupt and some may find the themes incompatible, but it wouldn't be a Loach film without some of that. With Lafferty's help, he manages to achieve a balance. In the end, with Cantona's wisdom and the help of his pals from the post office, Eric finds the courage and wit to win the day in a hugely entertaining final sequence.
Very funny and a bit sentimental, it's naturalistic comedy of the highest order, with Evets and Henshaw standouts among a terrific cast. Cantona too shows great comic timing and is both imposing and self-effacing, playing off his reputation for being a proud and temperamental man.
Not only Man U supporters will enjoy the splendid clips showing some of his classic passes and goals, and his dialogue is a constant delight. "Sometimes we forget you're just a man," Eric tells him. Comes the reply: "I am not a man. I am Cantona!"
Venue: Festival de Cannes, In Competition; Cast: Steve Evets, Eric Cantona, John Henshaw, Stephanie Bishop, Lucy-Jo Hudson, Gerard Kearns, Stefan Gumbs; Director: Ken Loach; Screenwriter: Paul Laverty; Production designer: Fergus Clegg; Music: George Fenton; Costume designer: Sarah Ryan; Editor: Jonathan Morris; Producer: Rebecca O'Brien; Executive producers: Eric Cantona, Pascal Caucheteux, Vincent Maraval; Director of photography: Barry Ackroyd; Production: Cantos Bros. Prods., Sixteen Films, Why Not Prods., Wild Bunch; Sales: Wild Bunch; Not rated; running time, 116 minutes.