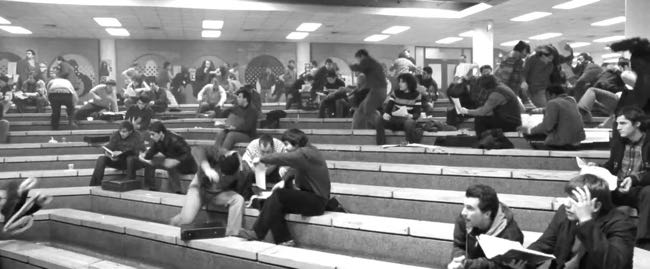 By Ray Bennett
CANNES – Denis Villeneuve's "Polytechnique" is a dispassionate retelling of the massacre of 14 young women at a school in Montreal by a deranged young man with a high-powered rifle in December 1989.
Filmed in black and white, the French-language film, which screened in Directors' Fortnight, does not set out to comprehend the crime other than to suggest that the shooter (played with a vacant stare by Maxim Gaudette) was a pathetic loser who chose to blame women for his empty life.
The focus is on what happens to two survivors of the incident. Jean-Francois (Sebastien Huberdeau) is the only person in the huge, crowded building who appears to do something to help, while Valerie (Karine Vanasse) is an engineering student who somehow survives being shot at point-blank while her fellow students die beside her.
The impact on them is quite different and as they are composite characters it could be said that they represent the guilt of the men, who were not targeted, and the determination of the women who survived to honor their dead schoolmates and push on with their lives.
The 76-minute film, produced by Remstar and Don Carmody Prods., and handled by Wild Bunch, is as much a memorial as it is a docudrama and as such it will interest educators and students, and make for sober television. It's a pity, though, that more of an attempt wasn't made to understand the killer and explain such things as why no one apparently thought to phone for help or hit the fire alarm.
This review appeared in The Hollywood Reporter.