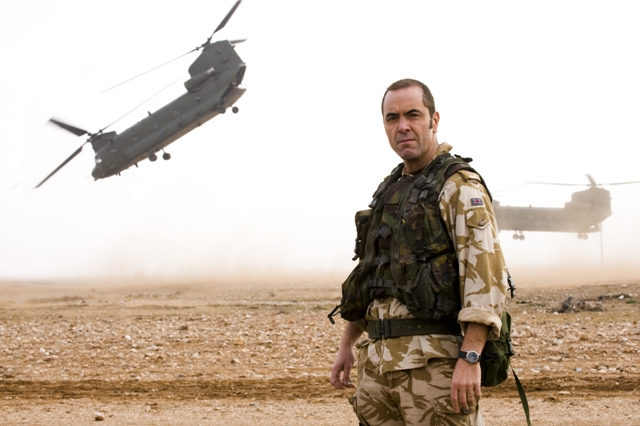 By Ray Bennett
LONDON – James Nesbitt has come a long way since he first attracted notice in ITV's "Cold Feet" in 1987 and he shows that he's become a fine actor in "Occupation", a three-part drama about British soldiers in Iraq that runs on three consecutive nights on BBC1 starting tonight at 9 o'clock.
Produced by Kudos ("Spooks," "Life On Mars"), written by Peter Bowker ("Blackbool") and directed by Nick Murphy ("Heroes and Villains," "Primeval"), it's the tale of three men whose terrible experience in an incident in Basra in 2003 marks them each in separate ways.
Stephen Graham ("Snatch" and soon to appear as Baby Face Nelson with Johnny Depp as Dillinger in Michael Mann's "Public Enemies"), Warren Brown ("Grownups") and Nesbitt ("Jekyll," "Murphy's Law") play the soldiers.
The first episode was screened at BAFTA a week or so ago and it was both atmospheric and involving. It's a change of pace for Nesbitt but he plays the role of a seasoned military man with great assurance.
Nesbitt says, "This is the first soldier I've played since I was starting out as a young extra aged 16 or 17, and it was quite daunting. I said to the director early on: 'I am worried about being believable'. I just couldn't picture myself. I kept telling him to keep an eye on my military bearing and my authority."
Nesbitt marched against the UK's decision to join in the invasion of Iraq and he says he hasn't changed his mind about that although his attitude towards the men and women who served has been altered by his experience making "Occupation."
He says, "What has been extraordinary to me and all those involved in 'Occupation,' irrespective of our own political persuasions or ideologies, is that we have come away from it with an enormous amount of respect for what they do. The discipline and the commitment of these men doing this job are quite extraordinary and quite moving."
Screenwriter Bowker did research with an organisation called Combat Stress, which helps veterans deal with the psychological damage of seeing action. Many have serious difficulty settling back into society, suffer mental and psychological problems and turn to drugs.
Booker says, "The thing that I was always reaching for was the emotional and psychological effect of warfare on young men who under any other circumstances might be written off by society and wouldn't go near admitting they have a mental illness or psychological damage."