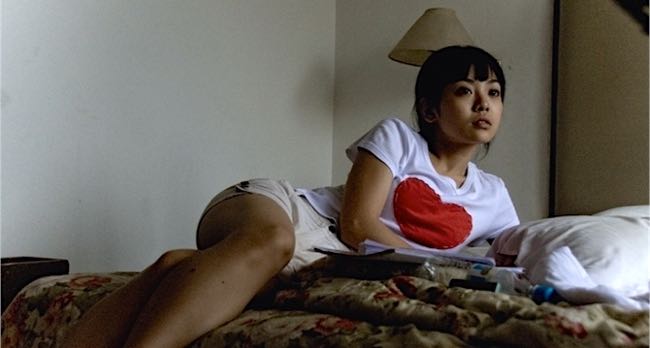 By Ray Bennett
LOCARNO, Switzerland – Malaysian director Ho Yuhang composes some arresting images in "At the End of Daybreak," his film of two youngsters who discover that their society's rules leave little room for youthful mistakes.
A cautionary tale about how poor decisions can lead to tragedy, the film is likely to resonate more in home territory than internationally. It has appealing leads, and the director makes a point of keeping some nasty business offscreen, but his enigmatic ending adds to a sense that his theme of how bad choices can be fateful is not fully developed.
The trouble for the young couple is that Tuck Chai (Chui Tien You) is a decent lad, but he's 23 years old, and his girlfriend, Ying (Ng Meng Hui, pictured), who also is well behaved and respectful mostly, has yet to reach 16.
The girl's schoolmates are experimenting sexually, and when she encourages her boyfriend, nature takes its course. Ying's parents discover that she's taking birth control pills and demand to know with whom she's sleeping.
Called to face the music with his hardworking single mother (Wai Ying Hung), the young man is horrified to discover that the girl's parents want him charged with statutory rape. They appear to change their minds when his mother offers to pay them off, but when she goes to extremes to raise the cash, they say they will prosecute anyway.
The filmmaker draws good performances from his players, with both youngsters sympathetic and believable, and Hong Kong TV veteran Wai is persuasive as an abandoned woman who strives to do well by her son but too often turns to drink to escape.
There's a shift in mood when the young man's dilemma becomes apparent and he realizes he might face years in jail. Things get out of hand when his girlfriend says there's nothing she can do to alter her parents' decision.
Ho loses grip on the plot at this point, and though the events that play out are plausible, they are not as illuminating as he clearly wanted them to be.
Venue: Locarno International Film Festival; Cast: Chui Tien You, Wai Ying-Hong, Ng Meng Hui; Director, screeenwriter: Ho Yuhang; Director of photography: Teih Gay Hian; Production designer: Gan Siong King; Music: Pete Teo; Editor: Mindy Wong Vern Yee; Producer: Lorna Tee; Production: Paperheart; Not rated; running time, 94 minutes.
This review appeared in The Hollywood Reporter.