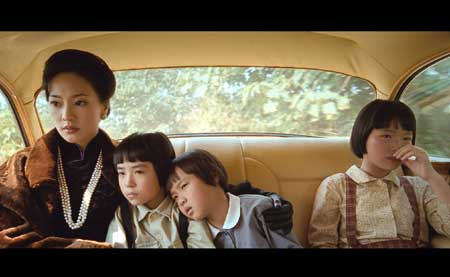 By Ray Bennett
VENICE – Very pretty people seen against beautiful landscapes provide most of the enjoyment in Chinese director Yonfan's glossy melodrama set in Taiwan in the 1950s when the hunt for communists on the island led to the period known as the white terror.
More a tale of personal betrayal than a depiction of a nation going through turmoil, the film may travel reasonably well in Asia but success elsewhere will have to rely on audiences' appetite for its romantic flourishes and fairy-tale wrapping.
Joseph Chang and Xuan Zhu play a flawless couple named Sun-Han and Ping with two gorgeous infant daughters. Sun-Han is a pilot and so the girls attend a school for children of pilots while Ping is a perfectly appointed and doting wife and mother noted for her dumplings.
The girls' favorite reading is a fantasy picture book titled "The Prince of Tears" with a great hero, and they view the world through romantic eyes, especially their kindly teacher who one day disappears having been accused, sentenced and executed on grounds of treason.
Meanwhile, a friend of their father, a scarred and damaged veteran whom they call Uncle Ding (Fan Chih-wei), is a regular in their household and it doesn't seem to bother anyone that he works for the right-wing government's security bureau.
Also in the picture is the glamorous Madame Liu (Terry Kwan), who once knew the couple but is now married to the powerful General Liu (Kenneth Tsang).
The relationships between all the adults become strained when it appears that Ping has a history not only with Ding but also with Madame Liu. There is also a secret involving the parentage of one of the daughters. When Sun-Han and Ping are also arrested on grounds of treason, the internecine affairs become somewhat heated.
It's good that Yonfan is able to tell a story that has such an ugly period in Taiwan's history as its background but the real horror of the time is not fully explored and the film keeps its focus on the very handsome players.
Venue: Venice International Film Festival, In Competition; Cast: Fan Chi-wei, Terri Kwan, Joseph Chang, Zhu Xuan; Director, writer, production designer: Yonfan; Director of photography: Chin Ting-Chang; Music: Yu Yat-jiu, George Lam; Editors: Kong Chi-Leung, Derek Hui; Producer: Fruit Chan; Production: Far-Sun Film, Peony5 Film; Sales: Fortissimo Films; Not rated; running time, 120 mins.
This review appeared in The Hollywood Reporter.