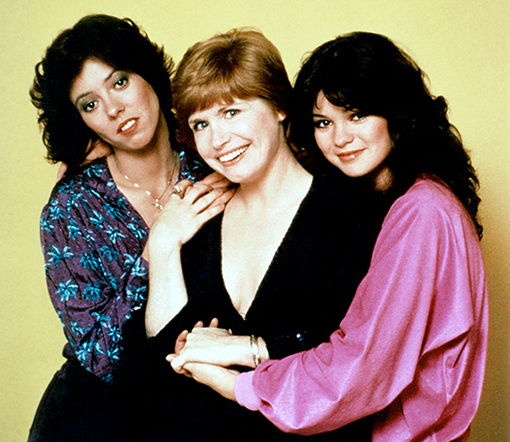 By Ray Bennett
LONDON – Mackenzie Phillips has written a memoir titled "High On Arrival" in which she says that she had an incestuous relationship with her father, John Phillips of the Mamas and the Papas. Family members have fallen out over her revelations and I have no idea what the truth is. But I do know recall what she told me in 1981 when I spent some time with her in Los Angeles for a story in TV Canada.
Looking clear-eyed and well fed, Mackenzie Phillips glances around the office of Alan Horn – who runs Tandem/TAT, the production company that produces "One Day at a Time" (CBS) – and says, "This will show you how messed up I was. The last contact I had with this company was in this office. I thought they were calling me in to give me a pat on the back; to say 'You're doing a wonderful job, Mack.' Instead, they fired me."
That was in February 1980, when Mackenzie was 20. Two years earlier, she'd been arrested in Hollywood for disorderly conduct under the influence of drugs or alcohol. She wouldn't admit it at the time, but she was in the middle of a $400,000 binge involving cocaine, Quaaludes and assorted other drugs. After five hit seasons on "One Day at a Time," the actress – who, at 12, had won filmgoers' hearts as the independent brat in "American Graffiti" – was out on her ear.
And she was too stoned to realize it. "My priorities were so screwed up that I walked out of here thinking that it was roughly the equivalent of losing the phone book. You can always get another one. I thought I was healthy. I thought I looked great. I thought I was just in top form. In fact, I weighed 90 pounds, and I was a drug addict."
Now, on a break from rehearsals, she's again sitting in Alan Horn's office, but in happier circumstances. She's returning to "One Day at a Time" for two guest appearances (Nov. 8 and 15), and while that's added reason to celebrate her 22nd birthday (Nov. 10), it means more to her. It's her first job since the successful drug rehabilitation program she and her heroin-ravaged father – singer-composer John Phillips, once of the Mamas and the Papas rock group – underwent last winter. She sees it as confirmation that Mack is back.
She was nervous about seeing her old co-stars again. Relations with Bonnie Franklin and Valerie Bertinelli (pictured) and Pat Harrington had been difficult in the period leading up to her firing. "I was very irresponsible," says Mackenzie. "Things were strained, and everyone was uncomfortable. There were hard feelings for a while, but of course it was my own fault. I hadn't spoken to any of them over the 19 months since I was fired, except briefly to Valerie just before she got married in April. I didn't expect them to call me, and I'm certain they didn't expect me to call them. We all understood that that was exactly the way it had to work out for it ever to work again."
She needn't have worried. "The first five minutes were the hardest. But then I walked into rehearsal, and there were hugs and kisses, and 'God, you look great,' and the whole thing. It was like old-home week. It all feels very natural."
By the end of the first week, at the Friday taping of the first part of a two-part story in which Mackenzie's characters, Julie, goes home to complain of her husband's infidelity, it seemed as if she'd never been away. "I'm very proud of her," said Bonnie Franklin, who plays her mother in the series.
Valerie Bertinelli was still marvelling at the new Mackenzie: "She's a changed person. She's like my sister again, just like the first two years on the show."
"It's like it was at the beginning, before she started to slip," said Pat Harrington. "I'll tell you this: She's got a better chance on her comeback than Muhammad Ali has on his."
"I've always loved this show and loved the people," Mackenzie says. "I've always wanted to rekindle the old relationship. When they realized that I was really working on my life, and they called me up and said would I like to work with them again, I said of course, I'd love it."
She hasn't watched the show very often since she left, but she does watch her own performance in reruns. Sometimes that hurts, bringing back painful memories – especially when she sees her drug-affected performances. Mackenzie had been a precocious child, bouncing back and forth between the chaotic world of her rock-star father and the more staid environs of her well-connected socialite mother, Susan Adams, who was married to Phillips for five years. By the time she was 15 and living with her aunt in the Hollywood Hills, Mackenzie was a TV star with a substantial income, and she moved in a fast crowd.
She doesn't blame Hollywood for her drug problems, but she says, "There is a lot of pressure in this town, especially for young actresses. They want to be thin. They want to be 'up.' And they want to express their success. How do you do that? You buy a car. You buy a house. And you have nice clothes. And then maybe it's a way to express yourself if you can offer someone coke and carry it around. It's one more symbol. For me, it started that way. Then I just kept getting more and more into it until I was so far in that I couldn't get out of it on my own."
Many people tried to help her as time went by, she says, including her aunt Rosemary Throckmorton, her mother and father, the producers of the series and her then manage, Pat McQueeney. "Part put me into several hospitals and tried to get me to stop, but I just wasn't ready to accept it. Last year, my father put me into a hospital on the East Coast, and I left against medical advice. I ran to New York, met a guy and moved in with him, and he showed me how to use needles. It got so that I was injecting cocaine every 10 or 15 minutes."
She was divorcing a rock-group manager, Jeff Sessler, and was losing job opportunities steadily. "The would offer me things, and my manager would just say, no, she's not available, because I really wasn't capable."
Mackenzie went back to Los Angeles and the day before her divorce was to be finalized, she overdosed on Tuinals and had to spend three days in an intensive-care unit. "I almost died," she says," but that didn't faze me a bit. I got out of the hospital, and my boyfriend said he didn't think he should see me anymore because I was so irresponsible. I said, 'You're gonna let a little thing like an overdose put you out of my life?' I mean, I was so stupid."
John Phillips, meanwhile, had become deeply addicted to heroin. Toward the end of 1980, he was arrested in New York for bartering illegal drugs. He pleaded guilty and was sentenced to a one-month prison term, which he served last spring, and five years' probation. But after his arrest, he voluntarily went into Fair Oaks psychiatric hospital in Summit, New Jersey, to be detoxified. "He started calling me from the hospital, saying, 'This is a great place, the doctors are wonderful, and you have a problem, too!' I'd say, 'What? Me? I don't have a drug problem.' And I'd be sitting there surrounded by all the things you need to use drugs. I kept saying, 'I don't have a problem.' Then one day he called and seemed like he meant it, and I listened."
Mackenzie joined her father and met the man treating him, Dr. Mark Gold. "I said to him, 'If you can treat my father, I'll be a piece of cake.' I didn't need any convincing. I'd had it." "She looked pitiful," says Dr. Gold. "Her skin was to the bone. She could hardly walk because she was so weak. And she had terrible acne from dietary deficiencies."
She entered an intensive five-week course of therapy, followed by individual therapy three times a week for three months. She was also a trainee counsellor with other drug users 25 hours a week for the same period, and continues to counsel on a volunteer basis. She regards that as a responsibility of her fame. "Unfortunately, kids don't listen to their health or guidance counsellors. But I'm someone they've seen on TV, and I think they can relate to me. I go up on stage and tell a graphic 15-minute story of my problems.
"I think that if you're going to prevent drug abuse, you have to start in grade school and just drum it into their heads that this can kill you. What I say to the kids is this: "I'm going to tell you a story, and I wish you would just use your imagination and put yourself into my life, and maybe you won't have to follow that road.' People go into the drug scene and get so wrapped up in it that they forget they can die. I'm very lucky to be here."
She feels, too, that entertainers must take responsibility for the way they influence young people. "I think that actors and actresses and rock musicians have been advocating drug use for too long," she says. "When you think of who's doing the sales and marketing for illegal drugs, it's films and TV and music. I don't know if they mean to do it or not, but they're doing a disservice to their fans."
Dr. Gold says that some entertainers he's treated have kept their recovery secret because to reveal that they no longer use drugs might harm their image. Others, like move producer Robert Evans, have undertaken court-directed anti-drug campaigns such as NBC's recent "Get High On Yourself" week.
For herself, Mackenzie knows that the title of her old TV series reflects the vigilance she must maintain to remain drug free. "It's east to get into cocaine, but it takes years to get out of it. You have to take it a bit at a time." She says she doesn't think about drugs any more, and so far she hasn't run into any of her old drug connections. "I wouldn't feel a threat anyway. If anything, they'd feel threatened by my straightness."
Mostly, she surrounds herself with family and friends in the small New Jersey town where she shares a house with Spanky Macfarlane, formerly of the Spanky and Our Gang rock group. John Phillips lives in the same town with his wife, actress Genevieve Waite; his son Jeff, 23; and their two children, Tamerlane, 10, and Bijou, 16 months. Denny Doherty, also one of the original Mamas and Papas, lives there, too, with his wife and new baby.
It seems almost inevitable that all that togetherness has resulted in Phillips and Doherty re-forming the Mamas and Papas, with Mackenzie and Spanky replacing Michelle Phillips (John's ex-wife) and the late Mama Cass. (Michelle and Phillips have a daughter, Chynna, and his drug rehabilitation has brought an end to their estrangement too.)
"It's one big, happy family again," says Mackenzie. She credits her part in it to the day she walked into Fair Oaks hospital. "They gave me hope that there really was life after cocaine. I didn't think I could live without it. I was wrong."
TV Guide Canada Nov. 7 1981