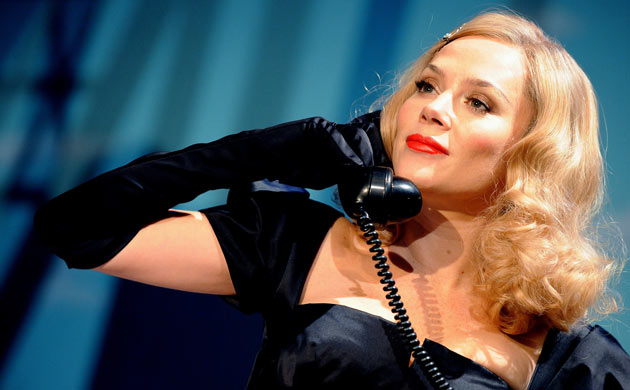 By Ray Bennett
LONDON – Anna Friel is attractive and spirited as Holly Golightly in Samuel Adamson's new stage adaptation of "Breakfast at Tiffany's" at London's Theatre Royal Haymarket, but the production cannot match her sparkle.
The mountain-stream clarity of Truman Capote's writing has never been distilled successfully onscreen, though Audrey Hepburn's ineffable charm and Henry Mancini's marvelous music combined to make magic in Blake Edwards' 1961 movie.
Depicting onstage such a brilliantly conceived character in the mad rush of wartime New York is doubly difficult. The film also had Manhattan locations and George Peppard, with his hunky looks and dissolute eyes, a plausible leading man for the inevitable Hollywood ending.
Both are lacking in the stage version, with the city re-created in an unconvincing setting of tall fire escapes and skyline backdrops and New York actor Joseph Cross as the callow narrator, a love-struck writer who never really stands a chance with flibbertigibbet Holly.
Adamson strives to conjure an atmosphere of reckless hedonism with Holly hovering between being a whacky socialite and woman of the night. Her sources of income are all men, though what they pay for is never clear. Except that one of them is a jailed drug baron whose messages she blithely carries to and from his criminal lieutenant.
There are millionaires, actresses and Hollywood types that Holly toys with as she tries to make her way in the world while remaining free as a bird. James Dreyfus has a good scene as a blustery but loyal Hollywood agent, and Dermot Crowley does well as Holly's favorite bartender, who also is a bit in love with her.
Friel plays Holly as blonde, poised and dangerous to know, which leaves the youthful Cross ("Running With Scissors") the tough job of trying to make her interest in his character credible. It doesn't come off, unfortunately, which takes some of the gloss off Friel's portrait of Holly.
Still, she's the best thing in the show and even survives a clunky sequence with the two leads holding reins and making believe they're on horseback while standing on a high platform with the Manhattan skyline behind them.
Friel handles a nude scene with confidence and no little sensuality, and she adds considerable depth to the character with a touching breakdown when Holly gets news of her brother's death in combat. It might not be Hepburn's Golightly, but it'll do nicely.
Venue: Theatre Royal Haymarket, runs through Jan. 9; Cast: Anna Friel, Joseph Cross, Dermot Crowley, James Dreyfus; Playwright: Samuel Adamson; Based on the novella by: Truman Capote; Director: Sean Mathias; Producers: Colin Ingram, Peter Kane; Set designer/costume designer: Anthony Ward; Lighting designer: Bruno Poet; Sound designer: Paul Groothuis; Music: Grant Olding.
This review appeared in The Hollywood Reporter.