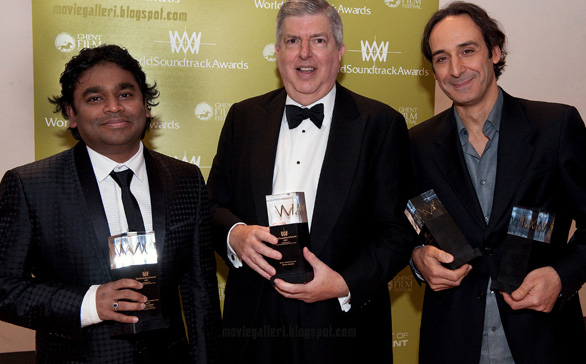 By Ray Bennett
GHENT, Belgium – French Golden Globes Award-winner Alexandre Desplat (above right) was a double honouree at the 9th World Soundtrack Awards on Saturday as he was named film composer of the year and picked up the prize for score of the year for "The Curious Case of Benjamin Button."
Three-time Academy Award-winning U.S. composer and songwriter Marvin Hamlisch (above centre) received a lifetime achievement award and was on hand at the awards gala where the Brussels Philharmonic Orchestra conducted by Dirk Brosse performed a suite of his scores and songs including "The Way We Were" and "The Sting."
Oscar-winner A.R. Rahman (above left) accepted the award for best original song written for film for "Jai Ho", with lyrics by Guizar and Tanvi Shah, and U.S. composer Carter Burwell, who could not attend, won the public choice award for "Twilight.
U.S. composer Nico Muhly was named discovery of the year for his music for "The Reader" and U.K. composer Christopher Slaski ("La verguenza," "Pulsiones") won the Sabam award for best young European Composer.
Desplat conducted a suite of his music from several of his movies including "Benjamin Button," "The Girl With the Pearl Earring," "The Painted Veil," and Birth" and last year's discovery award winner Marc Streitenfeld joined in an orchestral performance of his music from Ridley Scott films such as "American Gangster" and "Body of Lies."
Hamlisch had a long break in scoring feature films from "The Mirror Has Two Faces" in 1996 to Steven Soderbergh's "The Informat." He told reporters earlier that he got the job because the director had seen a DVD of Woody Allen's "Bananas," which dealt with a South American revolution and which Hamlisch had scored, while on location making his epic "Che."
The World Soundtrack Awards are held annually at the end of the Ghent Film Festival, which honors Belgian and international films, with a focus on film music. During the film festival, actor Andy Garcia, who was a presenter at the WSA, received a lifetime achievement award. Earlier concerts featured Kevin Costner with his Modern West band and Japanese composer Shigeru Umebayashi ("House of Flying Daggers").