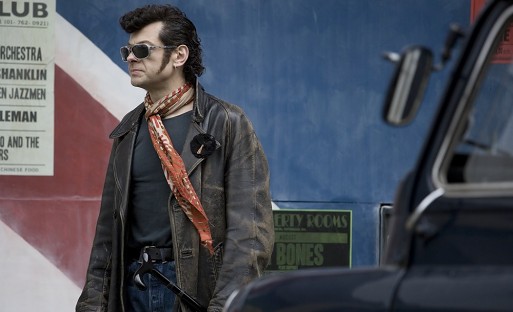 By Ray Bennett
LONDON – Rowdy and a bit ragged but wholly entertaining, Mat Whitecross's "Sex & Drugs & Rock & Roll" is a biopic of British punk rocker Ian Dury with a sensational lead performance by Andy Serkis, best known as Gollum from the "Lord of the Rings' films.
Set around performances by Dury and his band the Blockheads at the Watford Palace Theatre, the film takes a surrealist path to relating the rocker's journey from polio-stricken kid to top-of-the-charts entertainer.
It's an energetic and vivacious film that will appeal to fans of punk rock around the world and should find its place in the pantheon of great music film biographies. First-time director Whitecross and Serkis should be in line for awards.
Serkis does the singing with the real Blockhead musicians including guitarist and co-writer Chaz Jankel, portrayed winningly by Tom Hughes. Numbers given full screen time include the title track, "Billaricay Dickie," "Hit Me With Your Rhythm Stick," the controversial Spasticus Autisticus" and the mournful tribute "Sweet Gene Vincent."
Dury never claimed to have a great voice although it was very distinctive and Serkis captures it perfectly. He also does a great job portraying the determinedly independent and outrageous performer's flamboyant manner.
Paul Viragh's screenplay has Dury talking onstage about his lonely upbringing with a father (Ray Winstone) who was frequently absent, leaving him at an institution for handicapped children in the care of an unfeeling orderly (Toby Jones).
The story follows Dury from his first failed band through to 1970s success after hooking up with Jankel, and his love affairs with tolerant wife Betty (Olivia Williams) and young girlfriend Denise (Naomie Harris).
The two actresses make effective contrasts with Williams using stillness to convey Betty's wise kindness and Harris animated and wilful as the optimistic young woman. Bill Milner ("Son of Rambow") is all cheeky resilience as Dury's son Baxter, a young man whose exposure to his father's excessive rock 'n' roll lifestyle looks as it could take him off the rails.
The film is fast-paced and funny, with many jump cuts and bits of animation, but there are scenes of great poignancy conveying Dury and his tortured relationships. The English music hall was in Dury's blood and combined with his great determination to kill off any hint of self-pity. Serkis lets his eyes do the work in the quiet moments with as much skill as he displays in the splashy numbers.
"Sex & Drugs" features lots of cheerful English swearing and the film's exuberant pleasure in depicting Dury's waywardness may put off straight-laced audiences, but punk rockers everywhere will eat it up.
Opens: U.K. Jan. 8 (Entertainment); Cast: Andy Serkis, Naomie Harris, Olivia Williams, Bill Milner, Ray Winstone, Mackenzie Cook, Luke Evans, Toby Jones, Tom Hughes; Director: Mat Whitecross; Writer: Paul Viragh; Directors of photography: Christopher Ross, Brian Tufano; Production designer: Richard Bullock; Music: Chaz Jankel; Costume designer: Joanna Eatwell; Editor: Peter Christelis; Producer: Damian Jones; Executive producers: Kevin Phelan, Peter Hampden, Andy Serkis, Paul Viragh, Ian Neil, Ralph Kamp, Paul Brett, Steve "Harry Harrigan, Tim Smith Production: Aegis Film Fund, DJ Films, Lipsync Productions, Prescience Film Fund, UK Film Council; Sales: Metropolis International; Not rated; running time, 115 minutes.
This review appeared in The Hollywood Reporter.