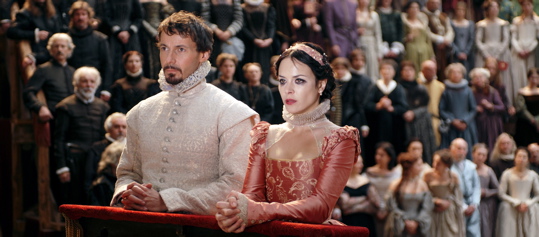 By Ray Bennett
BERLIN – Epic in scale but still betraying its producers' willingness to cut it into two parts for television sales, Jo Baier's "Henry of Navarre" should do well in most international markets looking for something in the line of royal court intrigue, religious conflict, bloody battles and lots of raucous sex.
Based on the popular novel by Heinrich Mann, the film covers the same ground as Patrice Chereau's more accomplished 1994 drama "La Reine Margot," in which Isabelle Adjani was the queen and Daniel Auteuil her tormented but determined spouse.
The time is 1653 with Catholics and Protestants – in the form of Huguenots from Avarre in the southwestern part of France – are at fearful odds. Catherine de Medici (Hannelore Hoger) is a bringer of death who rules everyone and everything with brutal guile as she plots to keep one or other of her sons on the throne.
Current occupant Charles IX (Ulrich Noethen) is batty as a flock of gargoyles and so fearful that he sweats blood and gives in to whatever horrible things his mother makes him do. That includes permitting the massacre of the Huguenots who gather in Paris peacefully on St. Bartholemew's Day for the marriage of his firebrand sister Margot (Armelle Deutsch) to Huguenot leader Henry of Navarre (Julien Soiseelier).
The film begins with the story of Henry's childhood with a narration that casts the boy and future king as a savior of France and the fear is that the film will be all about a saintly fellow who simply follows his destiny.
But the individual described by author Mann and screenwriters Baier and Cooky Ziesche, and portrayed by Boisselier, is far from squeaky clean. With his eye firmly on the prize, which is to say the crown, Henry matches wits with the matriarch of the de Medicis, legates from the Papacy, villains dispatched by the king's cohorts and the bewitching but soul-destroying Margot.
With serious features that suddenly break out in a winning smile, Boisselier captures Henry's chameleon ability to roll with the punches and be peasant or king, warrior or diplomat, and lover or chaste as the situation requires. Deutsch plays Margot enjoyably as all sex and little mischief while Chloé Stefani brings wit and insolence to temper the devotion of Gabrielle, the love of Henry's life. Hoger is a fairly conventional Catherine but Ulrich Noethen sees what a rich role he has in Charles and enjoys every minute of it.
Baier uses an €18 million budget with admirable craft and does a masterful job of hiding the seams in the big battle scenes where money must have been tight. Considerable credit is due to cinematographer Gernot Roll, production designers Klaus-Pete Platten and Christian Strang, costume designers Gergard Golinhofer and Isabel von Forster and editors Alexander Berner and Claus Wehlisch.
Oscar-winning composer Hans Zimmer and Henry Jackman, who has worked with Zimmer on many films and here joins him with a full composer credit, provide an expert score with a range of tones and colors to match the film's sweep and its quieter moments. Their themes do much to give the production the feel of a major motion picture.
Venue: Berlin International Film Festival, Berlinale Special; Cast: Julien Boisselier, Joachim Krol, Andreas Schmidt, Roger Casamajor, Armelle Deutsch, Chloé Stefani, Hannelore Hoger, Ulrich Noethen; Director, screenwriter: Jo Baier; Screenwriter: Cooky Ziesche; Director of photography: Gernot Roll; Production designers: Klaus-Peter Platten, Christian Strang; Music: Hans Zimmer and Henry Jackman; Costume designers: Gerhard Golinhofer, Isabel von Forster; Editors: Alexander Berner, Claus Wehlisch; Producer: Regina Ziegler; Executive producers: Hartmut Kohler, Jan Novotny; Production company: Ziegler Film; Sales: Bavaria Film International; Not rated, 153 minutes.
This review appeared in The Hollywood Reporter.