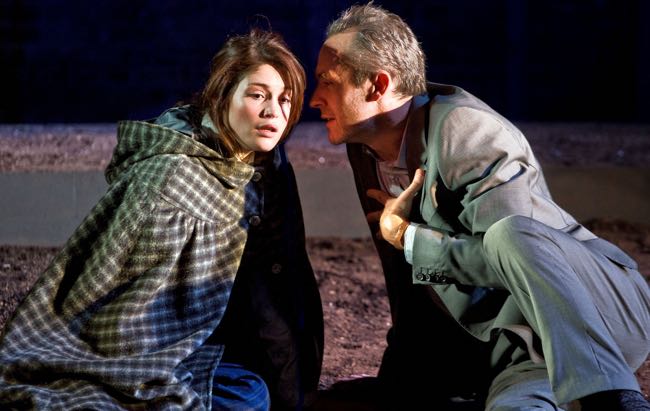 By Ray Bennett
LONDON – When conscience and vanity come wrapped up in a package as enticing as Gemma Arterton, it's no wonder that Stephen Dillane is mesmerized in the title role of Henrik Ibsen's metaphoric fable "The Master Builder" in a riveting new production at London's Almeida Theatre.
Arterton has made a splash in films as a doomed Bond girl in "Quantum of Solace", a bewitching princess in "Prince of Persia: The Sands of Time", and a head-turning writer in "Tamara Drewe". Earlier this year she managed to keep pace with the exquisite comic timing of Tamsin Greig in the West End production of Douglas Carter Beane's "Little Dog Laughed".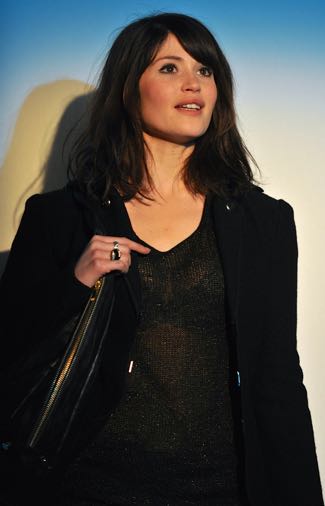 In Travis Preston's dynamic production of the Ibsen classic, in a translation by Kenneth McLeish, she achieves new heights with a performance of ravishing intelligence as the young woman, Hilde, who arrives out of the blue to flatter, beguile and torment the successful architect Solness.
Wrapped in oversized men's trousers torn at the thigh and a shirt unbuttoned at the belly, Arterton makes Hilde a captivating mix of idealism, fantasy and bone-chilling truth as she reminds the powerful architect of the time he held and kissed her as a child and promised her a kingdom with castles in the sky.
Solness has arrived at a point in life when he has become anxious over the ruthless way in which he exploited others and profited from the death of children in a fire on his way to success. He toys with partners young and old, and barely speaks to his weary and forlorn but dutiful wife Aline, played with imposing stillness by Anastasia Hille.
Dillane plays Solness as a self-involved and self-righteous man who loves the sound of his own voice. His sense of privilege encourages his gullibility as Hilde spins colorful images that could be half-remembered or wholly invented.
When she chides and praises Solness into doing the one thing he hates, which is to climb to the perilous top of a new high building and place a garland there, it's hard to know if it's balm for his wounded soul or the purest mischief. As his fate plays out, there is Hilde, panting and grinning, all wide-eyed wonderment, or possibly malevolent satisfaction.
Venue: Almeida Theatre, London; Cast: Gemma Arterton, Stephen Dillane; Playwright: Henrik Ibsen, in a translation by Kenneth McLeish; Director: Travis Preston; Set designer: Vicki Mortimer; Lighting designer: Paul Pryant; Sound designer: John Leonard
This review appeared in The Hollywood Reporter.