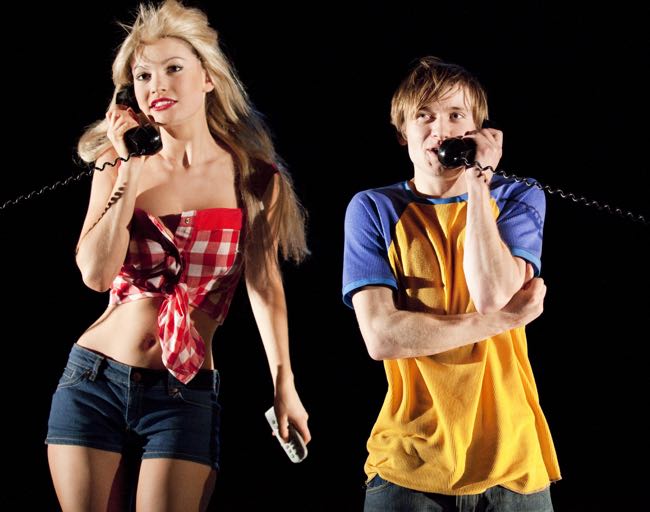 By Ray Bennett
LONDON – The Young Vic's new production of "Vernon God Little", based on DBC Pierre's 2003 Booker Prize-winning novel, tries to jam in as many of its characters, incidents and ideas as possible, but ends up in Jerry Springer territory with little of the book's vitality and wit.
It's a noisy parade of rural American stereotypes aimed at the lowest common denominator with well-known country and gospel songs placed cynically to underline the scurrilous nature of low-lifes whose "Southern" accents reach Texas by way of Mayberry and Hazzard County.
The book is a difficult read since it deals with a Texas teenager accused of being an accomplice to a murderous high school rampage. It takes the form of a scabrous farce that indicts small-town folk, the media, the law, psychiatry, educators and what it deems to be America's fondness for guns, the death penalty and televised spectacle.
The book's saving grace and principal charm lie in the inventive and exotic language of the 15-year-old title character. Everyone else is seen through his eyes and filtered through his vivid but not entirely reliable imagination. It takes a raucous path as Vernon is accused falsely of helping his buddy Jesus commit mass murder in the classroom as vengeance for being bullied constantly at school and preyed on by a sanctimonious pederast.
Jesus shoots himself afterwards and so the community seeks someone else to punish. After a scheming TV news reporter manipulates events so that Vernon is accused of more murders, he flees to Mexico but is eventually brought back to face a trial that could end with his execution.
His docile mother, a gaggle of her nosy female friends, assorted law officers, the intrusive newsman, and various kids populate Vernon's world, which he views with a venom borne of being dismissed and taken advantage of generally since the mysterious disappearance of his father.
In the book, these characters bob and weave as the after-effects of the killings wash across the locality. The author contrives to make penetrating sense of the absurdities that result from the clash between the horrifying event, everyday banalities and the relentless power of institutions such as media and the law.
Tanya Ronder's stage adaptation, however, renders them as caricatures that the energetic performers can do little to make credible. It might have been better to re-imagine the tale and make it more focused rather than attempt to force in so much from the novel. Some characters and events have been changed, but not for the better.
Joseph Drake (pictured with Lily James) works hard as Vernon but without the book's cultivated guile to work with, his performance stays on one anguished note. Peter De Jersey is smooth and sinister as the unstoppable newsman, and Clare Burt's mother is far less sympathetic than in the book; while she sings sweetly, the performer cannot overcome the part's lack of heft.
Lily James is an absolute knockout as a conniving beauty who puts Vernon in more jeopardy but she can't do much with the more interesting role of a dirt-poor girl who surprises Vernon with compassion and smarts. The playwright appears to have no idea what to do with the character and so she fails to register onstage.
Ian MacNeil's design is entertaining with furniture on wheels, improvised cars and TV sets, and curtains to make rooms, a courthouse and jail cells. Director Rufus Norris keeps a frenetic pace but the sheer number of characters with dubious accents and players in multiple roles make the proceedings dense and confusing, and the running time of around two and three-quarter hours including an interval does not help.
Venue: The Young Vic, runs through March 5; Joseph Drake, Lily James, Peter De Jersey, Clare Burt; Playwright: Tanya Ronder, from the novel by DBC Pierre; Director: Rufus Norris; Set designer: Ian MacNeil; Costume designer: Nicky Gillibrand; Lighting designer: Paule Constable, Jane Dutton; Sound designer: Rich Walsh.
This review appeared in The Hollywood Reporter.