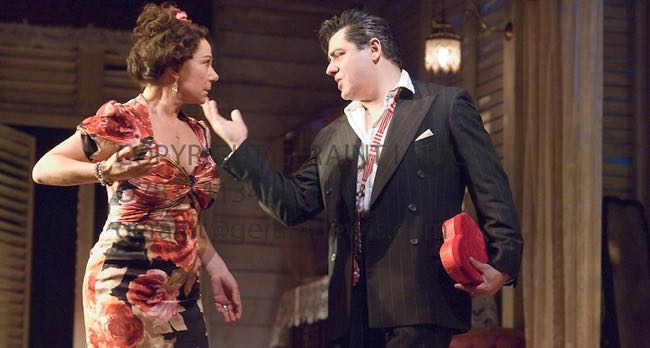 By Ray Bennett
The incomparable Maureen Stapleton, who died in 2006, played Serafina delle Rosa, the red hot Sicilian mama in Tennessee Williams' "The Rose Tattoo" when it opened on Broadway in 1951. Stapleton and co-star Eli Wallach won Tony awards as did the play, which ran under Daniel Mann's direction at the Martin Beck Theatre for 306 performances.
Stapleton (left) won her second Tony Award 20 years later in Neil Simon's "The Gingerbread Lady," having picked up an Emmy for "Among the Paths of Eden" in 1968. She won an Academy Award for her wonderful performance as Emma Goldman in Warren Beatty's Oscar-winning epic "Reds" in 1981.
Chicago-born actor/director Sam Wanamaker, who was blacklisted in the McCarthy era and was based in the U.K. for most of his life, first took "The Rose Tattoo" to London in 1959, where he directed and starred as the lusty truck driver who falls for Serafina, played by Lea Padovani.
Now Sam's daughter Zoe Wanamaker has taken the leading role in a new production at the National Theatre but, sad to say, it was not a great idea. Here's how my review begins in The Hollywood Reporter:
LONDON — As Madame Hooch in "Harry Potter and the Sorcerer's Stone", Zoe Wanamaker teaches flying and is the referee at Quidditch games. In the National Theatre revival of Tennessee Williams' "The Rose Tattoo", she plays a morbidly emotional hothouse flower named Serafina delle Rose, but it would take more than broomsticks to make this overblown production fly.
Williams wrote the play in 1951 for flamboyant Italian actress Anna Magnani, and while she never took the role onstage, her over-the-top wailing in the 1955 movie was enough to win her an Oscar in the same year that Ernest Borgnine won for "Marty."
Although it is set in the U.S. Gold Coast somewhere between Mobile and New Orleans, "Tattoo" lacks Williams's usual rich Southern atmosphere because its characters are all Italian. The action could just as well take place somewhere in the playwright's feverishly imagined idea of Italy.
Serafina is a voluptuous seamstress with volcanic emotions whose adored truck driver husband is killed, plunging her into a three-year exercise in ornate grief. She never puts on more than a slip; she argues with her pretty teenage daughter, rages at the local women and fights with the village priest.