By Ray Bennett
Finally made it to Shakespeare's Globe in London to catch Howard Brenton's Tudor romp "Anne Boleyn" before it closes today. A hit this summer as it was on its debut last year, the crowd- and critic-pleasing production will surely be back next year.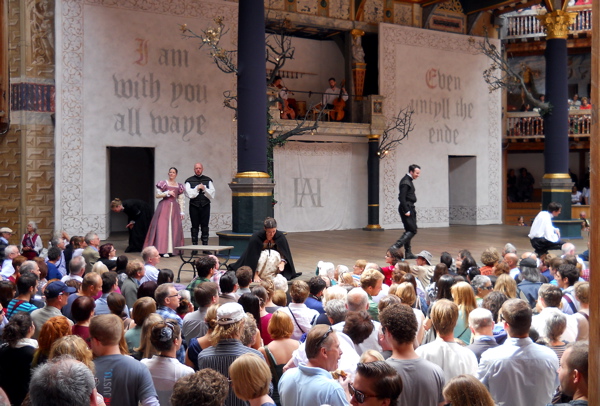 It might have started as a tourist attraction, and the summer crowd from London Bridge to Waterloo teems with overseas visitors, but the Globe has earned a deserved reputation for top-class theatre in a relaxed environment.
The actors come out onto the stage to talk to the Groundlings, and the fact that people will stand for two and a half hours (including an interval) to watch a play about the 16th and 17th century politics of the English court, speaks for itself.
Brenton takes a radical view of King Henry VIII's second wife through the eyes of James I (James Garnon) reading her diary nearly 70 years after her death. In director John Dove's vivid staging, Anne speaks directly to the audience and she wins the audience's sympathy immediately thanks to the radiant and engaging performance of Miranda Raison.
The former "Spooks" star manages to combine a twinkle in the eye with the steely determination of a young woman who knows that if she can win the king's heart, she can change the world. For Brenton's Anne is a Protestant crusader who meets secretly with William Tyndale (Peter Hamilton Dyer), who wrote a banned English version of the New Testament, in order to further her cause.
Brenton explores with insight and wit the well-known Machiavellian intrigue of the day with Cardinal Wolsey (Colin Hurley) and Thomas Cromwell (Julius D'Silva) up to no good. He leaves out the role of Anne's parents in her gambit to become queen and the "other Boleyn girl" is dismissed as a one-night stand.
According to Brenton, it was Anne's revelation to Henry (Anthony Powell) that Tynsdale's book argued that a king reported to his god and not to the pope that brought about the Reformation. When the James finds Anne's diary and a copy of Tynsdale, it prompts the newly crowned king to call for his enduring new translation of the bible.
It's clever stuff but it's very funny as well as dramatic and the accomplished cast puts it across with tremendous verve. "Foyle's War" costar Powell gives Henry the right mix of bombast and lust; D'Silva's stern and treacherous Cromwell stalks the stage with menace and Garnon's gay and flighty James grows in stature as he calls on the disputatious religious factions to account for themselves.
Garnon matches Raison as a Groundlings favourite with his camp and frolicsome Scottish king, and when he speaks of god and England's marvels, he takes advantage of the open air venue to glower at the sky with a noisy helicopter hovering above, and the crowd loves it.
Here's a rundown of ongoing Globe productions at London Theatre.com  and here's more about Shakespeare's Globe