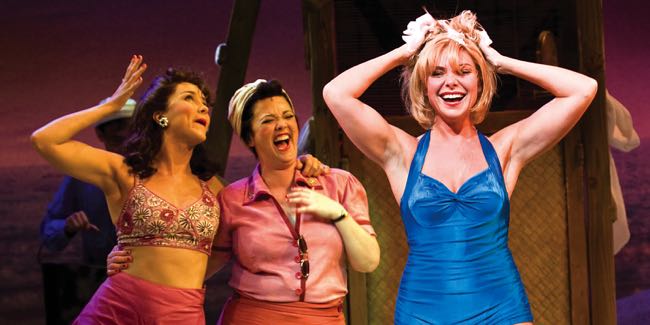 By Ray Bennett
LONDON – The big numbers in the Rodgers & Hammerstein musical "South Pacific" are so entertaining that the Tony Award-winning Broadway production at the Barbican until Oct. 1 is irresistible even though the production is a bit too respectful for its own good.
Songs such as "A Cockeyed Optimist", "Some Enchanted Evening", "There Is Nothing Like a Dame", "I'm Gonna Wash That Man Right Outta My Hair" and "Bali Ha'i" are worth the price of admission.
Director Bartlett Sherr and his team stage them with flair and the performances are mostly top notch. Michael Yeargan's handsome sets allow quick changes from the World War II beach camp of the US troops to the elegant home of exiled French planter Emile de Becque, with whom Nurse Nellie Forbush falls in love.
Samantha Womack (pictured top right and below left) is a sprightly and attractive Nellie, the bundle of energy from Little Rock who discovers more than she expected on a remote island in wartime. Her Arkansas accent is a little wobbly although she exercises it gamely more when she sings than when she speaks, and her movement does not betray the dislocated toe (not broken as some reports have it) she suffered just as the show debuted.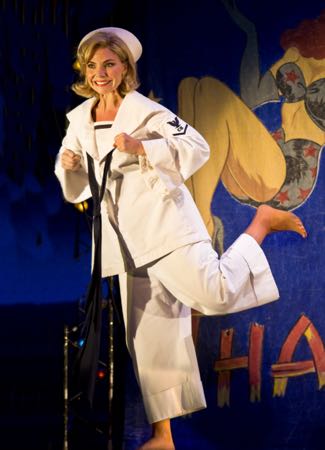 The love affair and the racism that is exposed when small-town Southern girl Nellie discovers her amour has two Polynesian children are treated with more seriousness than the show really needs. Brazilian-born baritone Paulo Szot (replaced from Aug. 29 to Sept. 21 by Jason Howard) won a Tony for his performance and it can only be due to his splendid performance of "Some Enchanted Evening".
Nellie and Emile are the most unlikely lovers anyway and while Szot is suitably stern and sad, but while his slight stiffness might serve the character, it doesn't make for a convincing love affair. His voice, too, has such deep resonance that it doesn't fit with the pleasing but more relaxed stage delivery of the other singers.
The best of these is Loretta Ables Sayre who plays Bloody Mary as a ratty old bird and when the sweetest voice emerges for "Bali Ha'i", it's a real showstopper. Alex Ferns leads the chorus in a feisty rendition of "Nothing Like a Dame" that conveys the song's clever mix of raunchiness and loneliness. Daniel Koek is dashing and handsome as the conflicted and callous Lieutenant Cable, and Elizabeth Chong is appropriately winsome as the beautiful but misused young island girl Liat.
The one real disappointment is that when Nellie delivers "Wash That Man", Womack uses phoney lather instead of getting her hair really wet. It would require a quick-change but it would add some welcome frivolity to a very sober production.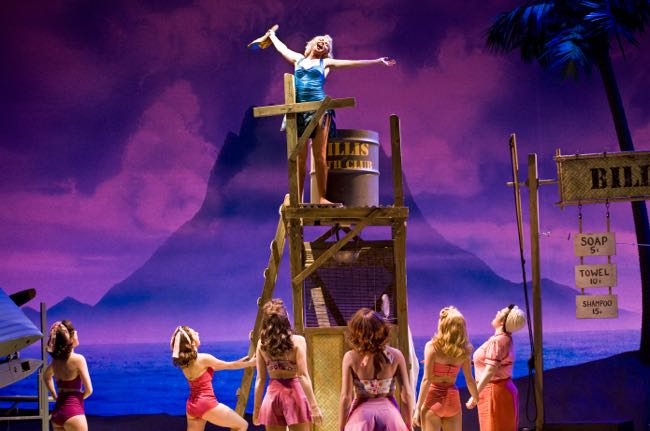 Venue: Barbican, runs through Oct. 1; Production: Lincoln Center Theater; Cast: Samantha Womack, Paulo Szot, Daniel Koek, Loretta Ables Sayre, Alex Ferns, Elizabeth Chong; Music: Richard Rodgers; Lyrics: Oscar Hammerstein II, also book with Joshua Logan; Director: Bartlett Sherr, Set designer: Michael Yeargan; Sound designer: Scott Lehrer; Lighting designer: Donald Holder; Costume designer: Catherine Zuber; Musical director: Ted Sperling; Musical staging: Christopher Gatelli. Running time: 2hrs 45mins.
Photos by Simon Annand.