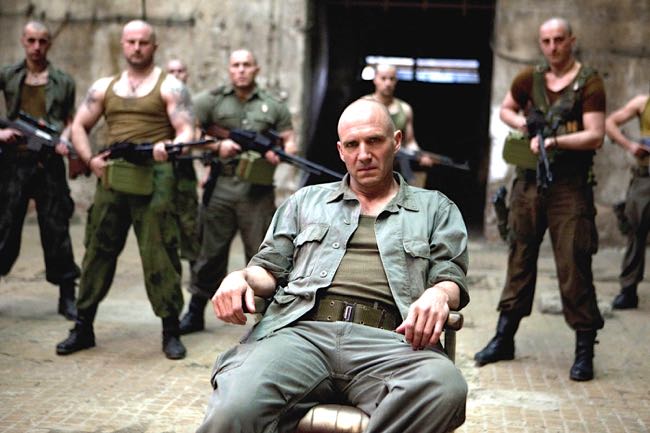 By Ray Bennett
BERLIN – At a time when revolution is once again in the air around the world, Ralph Fiennes delivers a ferocious reminder of the perils in store when a warrior becomes the head of state.
He directs and stars in "Coriolanus" as William Shakespeare's Rambo, an invincible soldier who survives odds so overwhelming that he becomes to believe that he alone merits the title Consul of Rome.
Set in current times with Shakespeare's language adapted skilfully by John Logan, and performed under Fiennes' direction with modern phrasing, the film illuminates the playwright's astonishing gift for timeless insight into what moves the human spirit and motivates ambition.
It could be sold as a straightforward action picture and should not put off those who find Shakespeare daunting. It's a tough, violent and moving tragedy with splendid performances by Fiennes, Vanessa Redgrave as his mother, Brian Cox as his friend Menenius, and Gerard Butler as his enemy Aufidius. Its success should carry beyond festivals and scholars to a mainstream audience.
There are more battles in " Coriolanus" than any other Shakespeare play and while Fiennes deploys tanks, rockets and automatic weapons in the many scenes of urban combat, he gives pride of place to cold steel to echo the story's origins.
Filmed in Belgrade, Serbia, the setting is "A place calling itself Rome" that could be anywhere. Caius Martius (Fiennes) arrives back in the city-state bloodied but victorious after his most recent battles to be acclaimed as a peerless warrior. His mother Volumnia (Redgrave) exudes unquenchable pride in her son even as she observes, "Before him he carries noise, and behind him he leaves tears."
He has defeated Aufidius, leader of the rebel Volsces and won the city of Corioles, so he is dubbed Coriolanus. Urged on by his mentor Menenius and the ambitious Volumnia, Martius expects to be given the highest rank in the Senate despite opposition from Tribunes Brutus (Paul Jesson) and Sicinius (James Nesbitt).
Before he may claim that position, however, he must gain the support of the people and there's the rub because he has led brutal reprisals against social protestors and has no taste for the posturing required to appease the crowd.
With hunger and deprivation widespread, campaigners Cassius (Ashraf Barhom) and Tamora (Lubna Azabal) help the opposing Tribunes turn the crowd's reaction into a frenzied rejection of their proposed leader. Outraged and betrayed, Martius is banished. He leaves home and family with only vengeance in mind, and heads off to find Aufidius so they can assault Rome together.
The meeting between the two sworn enemies is fraught with danger since their most recent bloody encounter has left them both scarred and vengeful. But Martius' fearless approach and unmatched skills in battle win over the Volsces and they come to worship him almost more than they do Audifius.
With Rome now desperate, the story plays out as Martius plots his return, Audifius contemplates his own future, and the desperate Tribunes send first Menenius and then Volumnia to plead for peace.
It's a Shakespearean tragedy, however, and things do not go well. Along the way, Fiennes and Butler have the martial swagger to match their incisive vocal delivery while Cox and especially Redgrave have emotional lines that they render with grace and delicacy. Redgrave also can change temper and spit out vituperation to match the agile Fiennes. They make a vitriolic pair – heavyweight screen acting at its best.
With great help from a fine cast plus production designer Ricky Eyres and cinematographer Barry Ackroyd, with whom he worked on "The Hurt Locker", Fiennes produced a piece of Shakespeare with a cutting edge as sharp as it is bloody.
Venue: Berlin International Film Festival; US release Jan. 13, The Weinstein Co.; UK release Jan. 20, Lionsgate UK; Cast: Ralph Fiennes, Gerard Butler, Brian Cox, Vanessa Redgrave; Director, producer: Ralph Fiennes; Producers: John Logan, Gabrielle Tana, Julia Taylor-Stanley, Colin Vaines; Screenwriter: John Logan, based on the play "Coriolanus" by William Shakespeare; Director of photography: Barry Ackroyd; Music: Ilan Eshkeri; Editor: Nic Gaster; Costume designer: Bojana Nikitovie; Production: Artemis Films, Hermetof Pictures, BBC Films, Lonely Dragon; Distributors: U.S. The Weinstein Co., U.K. Lionsgate; US rating R; running time, 122 minutes.
This review appeared in The Hollywood Reporter.