By Ray Bennett
When you see Alain Delon and Romy Schneider in the 1969 film "La Piscine" you have a much better idea of what it must have been like to be young and beautiful in St. Tropez in the 1960s.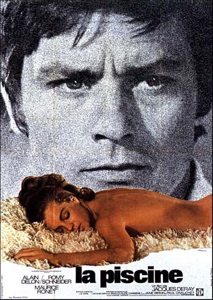 It's often said that screen couples sizzle, but rarely do they sizzle like Delon and Schneider. The film has been restored by SND Films and starts today at BFI Southbank and in cinemas in key cities, released by Park Circus.
Directed by Jacques Deray with cinematography by Jean-Jacques Tarbés and music by Michel Legrand, it's a love triangle set in a Mediterranean villa with a tempting swimming pool.
Jean-Paul (Delon) and Marianne (Schneider) are playful lovers whose idyll by the Med is interrupted by the visit of one of her ex-lovers, the boisterous and noisy Harry (Maurice Ronet), who brings his waiflike young daughter Penelope (Jane Birkin) to stay.
The tension grows in a very sly fashion as temptation and jealousy begin to surface, and as the threat of violence increases you can't take your eyes off the movie's golden stars.
Here's more from Park Circus