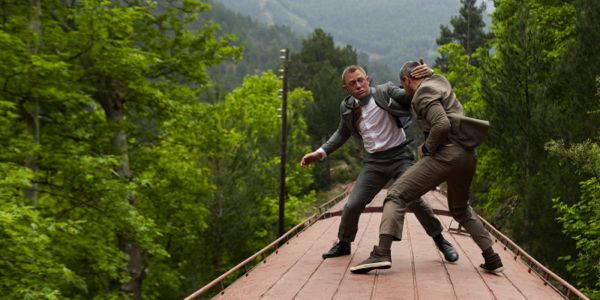 By Ray Bennett
"Skyfall" in the UK grossed £53.7 million in 10 days after the James Bond train steamed past the all-time UK 7-day box office record with £37.2 million ($60 million) in the first week of the Sony Pictures release and an international gross of $287 million.
Box office tracking service Rentrak said the film topped the previous opening week UK record of £35.7 million earned by "Harry Potter and the Deathly Hallows, Part 2" in 2011.
The Sam Mendes film starring Daniel Craig, Judi Dench and Javier Bardem added $156 million on the weekend in 81 international markets. Sony took in $139 million and MGM, which licensed the picture in some markets, made $17 million, according to estimates.
Producers Michael G. Wilson and Barbara Broccoli said, "We are very grateful to the Bond fans and all UK cinema audiences for making 'Skyfall' the biggest opening week ever during our 50th anniversary year."
Sony Pictures Worldwide Marketing and Distribution Chairman Jeff Blake said, "We couldn't be more proud of the critical and commercial reaction 'Skyfall' has received. The results are a true testament to the 50 year legacy of James Bond. The best is still yet to come in the UK and all around the world."
The film's box office took Sony Pictures Releasing International's total gross for 2012 so far to $2.16 billion to overtake its record of $2.14 billion with two months left in the year. "Skyfall" opens in the US on Nov. 7.
Trade papers noted that the 23rd film in the 007 series – from EON Productions, Metro-Goldwyn-Mayer Studios and Sony – did blockbuster business even though it did not benefit, as other recent hits have, from higher 3D ticket prices. A Rentrak spokesperson told The Hollywood Reporter: "The Bond films attract Bond audiences and most don't care about it being in 3D. They'd have all gone anyway."
This story appeared in Cue Entertainment