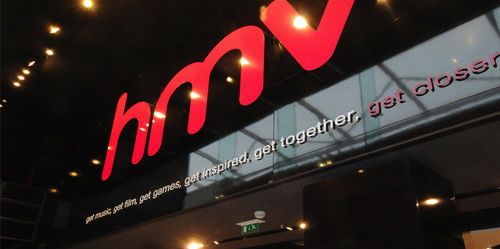 By Sam Andrews and Ray Bennett / This story appears in Cue Entertainment
Provided a buyer can be found, administration could be the best thing for HMV in the long run, according to entertainment industry leaders.
Executives said the opportunity to shed loss-making stores and its £176 million debt could leave the business in much better shape to survive. UK Music Chair Andy Heath told BBC Radio Four's Today programme: "Going into administration gives HMV an opportunity for a substantial and decent rebirth."
HMV spokesman Gennaro Castaldo said, "We don't see this as a final chapter; we still believe there is a future. It might have to be a slightly different future, but one we can still try to achieve, so we're working hard to make that happen."
As Twitter and Facebook lit up with consumer dismay and nostalgia about what many called their favourite high-street shop and expressed hopes for its survival, distributors — both large and small — were keen to emphasize their desire for HMV to continue to offer a physical outlet for entertainment. They stressed, however, that HMV's administrators would have to recognise that much of the stock held by the firm had been supplied on consignment and as such remained the property of suppliers.
One said, "They have to realise that legally any sales have to be agreed with us and we have to get our part of the revenue from them. It can't be used to pay creditors such as the banks."
Good will is clear, however. One home entertainment chief said, "There are a lot of profitable stores in great locations. Let's hope they can save some of it." Another indie said, "We really need a presence on the high street for people to find our catalogue titles and to drive impulse purchase."
BBC Business Editor Robert Peston reported that the outlook for HMV "looks considerably better than for other recently kaput store groups". He said: "The reason, according to influential sources close to HMV, is that the music industry and the film industry want its survival, albeit they recognise that will have to be with fewer stores and with fewer locations."
HMV issued a statement late Monday that said: "The board regrets to announce that it has been unable to reach a position where it feels able to continue to trade outside of insolvency protection. The board understands that it is the intention of the administrators, once appointed, to continue to trade whilst they seek a purchaser for the business."
All of HMV's 239 stores are open and 4,350 staff remain in work, Castaldo said: "We're doing our very best to continue operating as per normal. There are a couple of areas such as gift cards where unfortunately we can't do that, but effectively we've got new owners now and when you get into an administration it can impact on vouchers and gift cards. But everything else we're doing our best to continue as normal."
Deloitte, which has advised HMV's lending banks Royal Bank of Scotland and Lloyds, will be appointed as administrators and the business will continue to do business while a purchaser was sought but trading in HMV shares will be suspended on the London Stock Exchange, the retailer said.
Home entertainment suppliers played down any suggestions that they would directly intervene to buy HMV. "It is not our business but we will support any viable plan the management put to a potential buyer," one told Cue Entertainment.
Peston said that Deloitte will work on the assumption that the important suppliers will help the creation of a slimmed-down and viable HMV: "This is unlikely to involve these suppliers actually buying HMV out of administration. Much more likely is that they would provide easy credit terms to a buyer — which will very likely be a private equity group."
Private equity firms Hilco and OpCapita have been touted in the media as possible buyers. OpCapita rescued GAME Group from collapse last year and Martyn Gibbs, who was appointed by OpCapita to become chief executive of Game, told The Sunday Telegraph in November that the retailer is in "good shape". He told the newspaper that Game is forecast to make £20 million in earnings before interest, taxes, depreciation and amortisation in the year to July 2013. Game has around 330 UK stores and employs more than 3,000 people. OpCapita had no comment this morning.
The front-runner is seen to be Hilco, which bought HMV Canada for CAD $26 million in 2011 and turned the business around. The firm's spokesman could not be reached for comment. Hilco reported last week that HMV Canada recorded a 1.4% year-on-year rise in Christmas trading to $65 million and sales of $270 million for the year. The retailer launched a digital locker scheme before Christmas called The Vault, which offers digital streaming and downloads.
Hilco UK CEO and HMV Canada Chairman Paul McGowan said: "From the start, we saw a lot of promise in the business at HMV Canada and are delighted to see the business performing so strongly 18 months after our initial investment. These results, combined with the structural advantages of Canada's retail market that Europe and the U.S. do not have, prove that, by working with all stakeholders – our staff, suppliers, and landlords – and focusing on providing an excellent shopping experience, specialty retailers can thrive in the entertainment sector."
While the consumer press has suggested that HMV's Blue Cross sale was a last ditch measure to stave off collapse, industry insiders reported to Cue that the sale has been a huge success, and one said: "We were really pleased with the results of the initiative. Sales were up more than 60% year-on-year and HMV did more business in the first two weeks of January than the whole month in 2012."
The British Video Association pointed out that BVA data showed that as the last specialist video retailer, HMV has held its share of around 16% of volume sales over the last 10 years, while total market sales rose in the same period from 169 million units to 179 million units. Meanwhile internet sales have gone from 8.5% to 30% in 2012 but in terms of consumer spending on discs the internet has taken a larger share of the value, with 19% to HMV and 36% online.
Director General Lavinia Carey said, "The BVA's year-end statement also highlighted that over £0.5 billion was spent by consumers on digital video services. The BVA sincerely hopes that while in administration the value of this important retailer can be realised so that a re-structure will enable the best performing stores to continue trading and maintain consumer choice and access on the high street."
Entertainment Retailers Association Director General Kim Bayley said the news was not a surprise "but it is still a shock". She noted that HMV has been part of the fabric of the music and entertainment business for decades: "But there are signs that this might not be the end of the story. It would be wrong to underestimate the affection in which HMV is held by consumers and the determination of music and video companies to see HMV survive in some form."
Bayley said: "We know there is consumer demand — in a poll last year HMV was ranked in the Top 10 of the stores people most want to see on their High Street. Data suggests they generated 170 million in-store visits last year and another 40 million online. At the same time both music and video companies are painfully aware of the consequences of losing a retailer responsible for around a third of UK physical music and video sales. We have to hope they will not stand by and watch HMV go down."
The ERA Director General also was keen to stress the importance of HMV to consumers as well as the industry. "There has been much misinformation published in the past 24 hours about the relative strength of physical and digital entertainment formats. Physical formats like CDs and DVDs still account for three quarters of the entertainment market. In other words, HMV going from the high street is in the interests neither of consumers nor of suppliers."
Bayley said ERA members, although competitors of HMV, have been quick to express their support: "We believe it is possible for the administrators to rescue something out of this situation. There is a precedent that you can streamline your costs and in particular the number of stores a chain trades from and still retain the bulk of sales – that's precisely what happened with Game. There is clearly is a viable business model for an entertainment retailer on the UK high street. It is up to the administrators now to do their job and take the steps necessary to make it possible."