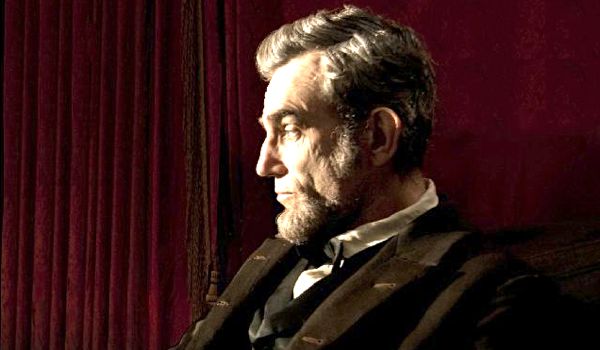 By Ray Bennett
Steven Spielberg has done a very bold thing with his film "Lincoln" and elected with Daniel Day Lewis to portray a truly great man over one intense period toward the end of his life rather than attempt a full biography.
They succeed magnificently and create an indelible picture of a profoundly wise and complex man who remains for many the greatest American who ever lived.
It's one of the best movies about politics you'll ever see and the infighting in Congress and machinations to find votes over a momentous piece of legislation are riveting. Screenwriter Tony Kushner gives a wonderful cast a full measure of meaty and often funny dialogue to chew on and they do it with panache. 
It also is the story of a family as while Civil War rages and politics  demands full concentration, Lincoln has his troubled and troubling wife Mary (Sally Field) to consider along with a lonely younger son and his elder boy (Joseph Gordon-Levitt), who is desperate to prove himself in battle.
As he deals with all these powerful demands, Lincoln as played by Day Lewis resembles no one so much as Gregory Peck's Atticus Finch in "To Kill a Mockingbird", a man of immense bravery, wisdom, compassion and love. When Lincoln bends his lanky frame to lie down with his little boy and wake him so that he may climb upon his back and go off to bed, Day Lewis shows a man with all the weight of mankind upon his shoulders.
Based largely on Doris Kearns Goodwin's splendid book, "Team of Rivals: The Political Genius of Abraham Lincoln", the film focuses on the passage through the House of Representatives in 1865 of the 13th amendment that will end slavery just as the war comes to an end. The president's overwhelming goal is to keep the United States of America together as a union, but he knows that his declaration of emancipation will be rescinded if an amendment is not passed that puts the end of slavery in law and if the vote does not take place before the Confederate States surrender then they will defeat its passage. Slavery would still be legal in the southern states but it might also spread west.
With the help of Secretary of State William Seward (David Strathairn), he must collect 20 more votes to defeat the opposition in the House and the film shows with great relish how he employs every wily and manipulative move to get the job done. James Spader, John Hawkes and Tim Blake Nelson have tremendous fun as three spin-masters who are prepared to use every trick to win wavering representatives over to the president's side. Tommy Lee Jones has many of the best lines as radical abolitionist Thaddeus Stevens, Hal Holbrook is shrewd and stern as Republican elder Preston Blair and Jared Harris delivers a brusque and loyal Ulysses S. Grant.
Spielberg and Kushner move between political fury and the president's meetings with cabinet members, junior staff, soldiers and everyday folk to the intimacy of his family. In Rick Carter's immaculate production designer, cinematographer Janusz Kaminski creates images of great beauty that capture Lincoln alone or in the halls of power, private rooms or the battlefield. The score by John Williams, which is used a little more often than necessary to indicate mood, is nonetheless beautiful.
Day Lewis gives a towering performance that will endure no matter how many awards he wins or doesn't win, and the very large cast follow his lead. Sally Field's subtle performance is one of great skill as she conveys Mary Todd Lincoln's grief, fear, hope and pride and while Tommy Lee Jones has the showiest role, which he carries off with typical flair, David Strathairn provides an anchor to key scenes just as his character does for Lincoln.
This is a movie about grownups for grownups and it will be treasured for a very long time.
Opens: UK: Jan. 25, 20th Century Fox / US: Nov. 9, Touchstone;
Release: Friday, Nov. 9 (Disney/Touchstone); Cast: Daniel Day-Lewis, Sally Field, David Strathairn, Joseph Gordon-Levitt, James Spader, Hal Holbrook, Tommy Lee Jones, John Hawkes, Jackie Earle Haley, Bruce McGill, Tim Blake Nelson, Joseph Cross, Jared Harris, Lee Pace; Director: Steven Spielberg; Screenwriter: Tony Kushner, based in part on the the book "Team of Rivals: The Political Genius of Abraham Lincoln", by Doris Kearns Goodwin; Producers: Steven Spielberg, Kathleen Kennedy; Director of photography: Janusz Kaminski; Production designer: Rick Carter; Music: John Williams; Costume designer: Joanna Johnston; Editor: Michael Kahn; Executive producers: Daniel Lupi, Jeff Skoll, Jonathan King; Production: DreamWorks, 20th Century Fox, Reliance Entertainment, Amblin Entertainment, Kennedy/Marshall Productions; Rating: UK 12A / US PG-13, 149 minutes.