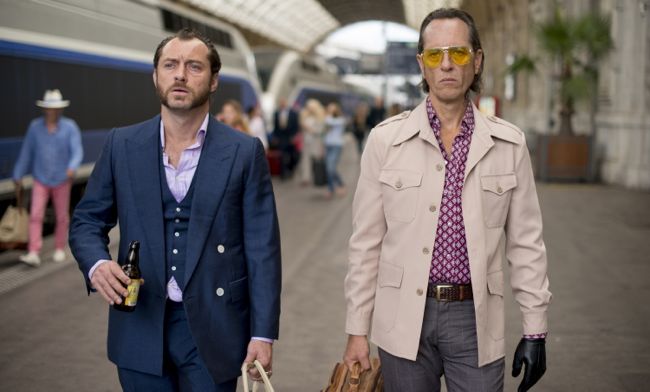 By Ray Bennett
TORONTO: Petite and cultured Jude Law in his new film "Dom Hemingway" aspires to become a tough-guy London gangster type and fails risibly.
He's bulked up and balding but he's more Phil Collins than Jason Statham in the title role of a preening cretin who gets out of  jail and goes to collect his reward for taking the rap in a crime caper.
Given verbal diarrhoea by New York director Richard Shepard, who writes with a tin ear, Dom Hemingway would be odious if he were not so palpably and laughably fake. He is seen first naked in his cell as he delivers a farcically ornate paean to his penis as he receives fellatio from an unseen benefactor.
Short and bloated, Dom is an ill-conceived character who implausibly is supposed to instill fear in men and desire in women but make us somehow like him because he is so stupid. No sooner is he out of prison than he beats a hapless rival almost to death and romps with some bought and paid for painted ladies.
Richard E. Grant plays a fawning sidekick who we're supposed to believe admires the nasty little creep even though we know that he could break him with a single sneer.
Laughably unconvincing, the film moves quickly through the usual clichés of English gangster films that become unbearable after about 20 minutes, which is when I left despite the appeal of Rolfe Kent's score.
Other reviews suggest that the film continues with a torturous blend of violence, sentimentality and wretched dialogue that would make even that other Hemingway blanch.
Venue: Toronto International Film Festival
Opens: UK: Nov. 15 (Lionsgate) / US: April 4 (Fox Searchlight)
Cast: Jude Law, Richard E. Grant, Demian Bichir, Emilia Clarke, Kerry Condon, Jumayn Hunter, Madalina Ghenea, Nathan Stewart-Jarrett; Director: Richard Shepard; Screenwriter: Richard Shepard; Director of photography: Giles Nuttgens; Production designer: Laurence Dorman; Music: Rolfe Kent; Costume designer: Julian Day; Editor: Dana Congdon; Producer: Jeremy Thomas; Executive producers: Steve Norris, Peter Watson, Zygi Kamasa; Production: Recorded Picture Company, Jeremy Thomas Production. Runs: 93 minutes; Rating: UK: 15.