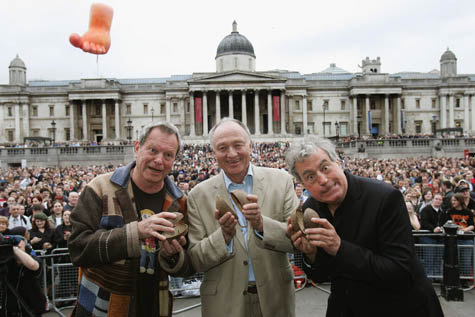 By Ray Bennett
The sci-fi nuts were out in London's Leicester Square Monday night for the U.K. premiere of "Spider-Man 3" but a block away on Trafalgar Square it was all about St. George and coconuts.
As Monty Python's famous giant foot threatened to knock Admiral Nelson off his 151-foot column, Pythons Terry Gilliam and Terry Jones plus London Mayor Ken Livingston led 5,567 people as they provided clip-clop backing to a rousing chorus of the Python anthem "Always Look on the Bright Side of Life." The crowd was much bigger than that but they ran out of coconuts.
The official count was enough to break the world record for the largest coconut orchestra set in March with a mere 1,789 in New York's Times Square for the first anniversary of the hit Broadway musical "Spamalot."
The London celebrations carried on into the night as most of the adhoc orchestra headed off to the pub, clip-clopping all the way.