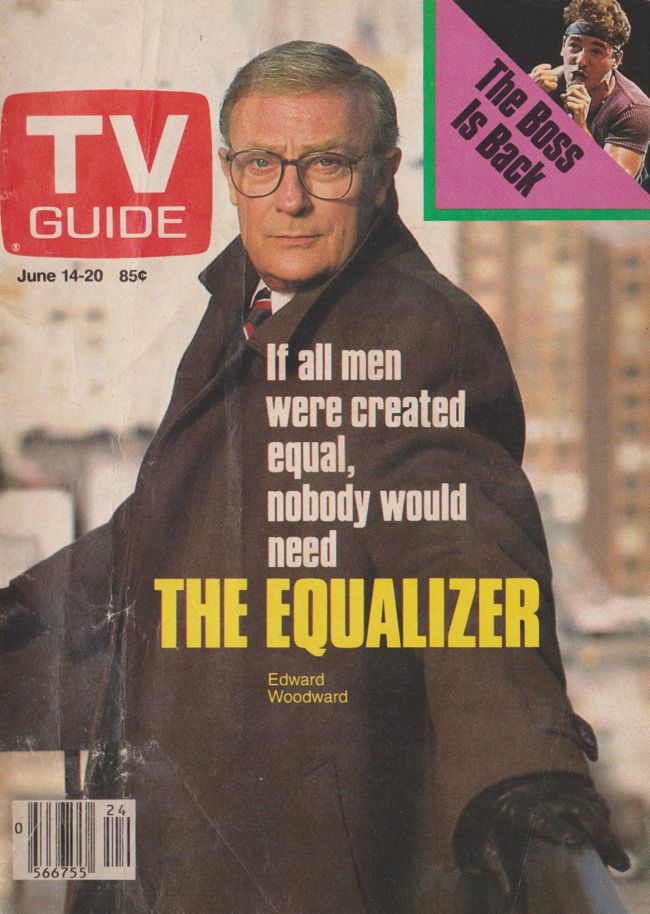 As Denzel Washington steps into the shoes of Robert McCall in "The Equalizer", here's what the original TV Equalizer told me about it in 1986. Edward Woodward died in 2009 aged 79.
Hey, instigator! Hypnotizer! Extricator!
No matter what you call him, Edward Woodward gets the job done – as The Equalizer
By Ray Bennett
On the streets of Manhattan, New Yorkers call out to the suave, unassuming man in the handsome long English topcoat: "Hey, Instigator!" "Hey, Hypnotizer!", "Hey, Extricator!"
"Name any variation of Equalizer and I'm called it," says Edward Woodward, the urbane Shakespearian actor from England whose location work on CBS's "The Equalizer" has made him a well-recognised fixture on the streets of New York.
In the series, Woodward – best known for the fact-based 1979 Australian movie "Breaker Morant" – plays a retired espionage agent who applies his dangerous skills to help people in a jam who have nowhere else to turn.
Woodward has worked in New York before, starring on Broadway in "Rattle of a Simple Man", for which he won the New York Theatre Critics Award, and in Noel Coward's "High Spirits", but the exposure of a network series is vastly greater. And since "The Equalizer" is shot almost entirely on location, the city's street folk have come to accept him.
"It's quite astonishing, shooting here," Woodward says. "People are far more interested than they are, say, in London, and there's a strange sort of knowledge that if they're not quiet when a scene is being shot then it won't work. We'll often have enormous crowds watching but whenever the assistant director shouts, 'Right, quiet everybody', 400 people are suddenly silent. As soon as he says, 'Cut', the bedlam starts again."
Woodward is used to being recognised. His hit series "Callan" made him a star in England in the late 1960s but it's a new phenomenon in North America.
There were fears at CBS and Universal, the studio that produces "The Equalizer", that his star power would not translate to North American audiences. Although he is a superb actor, Woodward is 55 and his Savile Row appearance is a far cry from Don Johnson.
Michael Sloan, who with former partner Richard Lindheim created "The Equalizer", wrote and produced the pilot episode last year. Sloan fought for Woodward. "It was a tough piece of casting," he says. "It's great to write this cool, compassionate, tough, sophisticated, austere guy. But who's gonna play him?"
The studio wanted someone like James Coburn but Sloan stuck to his guns. His persistence paid off when test audiences ranked Woodward in the Top 20% in the "Q" popularity ratings.
There has never been a character quite like the Equalizer on television, which helps to explain, says one of the show's former producers, why it has taken viewers a while to catch on. And though it hasn't been a ratings front-runner, "The Equalizer" has equalised  the numbers of other series in the same time slot such as "Spenser: For Hire" and "Stingray". Co-creator Lindheim, now a senior vice-president of programming at Universal, points out that in its first season the series has almost the same ratings that "Miami Vice", another Universal series, had in its debut year.
The "Miami Vice" connection runs deep in that Joel Surnow, who with that show last year, had a key role in producing "The Equalizer" this season. And just as "Miami Vice" has an original weekly soundtrack score provided by a bona fide rock figure (Jan Hammer), "The Equalizer" has Stewart Copeland, drummer from the rock group The Police (a rough cut of each episode is sent to England where Copeland matches music to action). Further pedigree is provided by executive producer James McAdams, who used New York street scenes to good effect in Telly Savalas's hit series "Kojak".
Universal's Lindheim says that CBS senior vice-president of programming Harvey Shepherd, who approved the series originally, watches it every week, and all concerned were confident that it would continue next season. Last month, CBS announced officially that "The Equalizer" would indeed return.
That sits well with Woodward, who says that aside from the obvious financial rewards of doing a network series, the only reason he decided to work in the States was the role of Robert McCall, the Equalizer.
"There is a great myth about how much people are paid in American television," he says. "Only after a show has been on for two years can you say that it's some kind of a hit. That's when the funny money starts happening. In the interim, you're paid very well but it's not millionaire time. It might become that time but it isn't at the moment."
Woodward had made a short film for Michael Sloan in England some 15 years ago and so he readily agreed to read his script for "The Equalizer".
What he liked was the the Equalizer is a man without fear. "I have in mind all the time a priest friend of mine, a Franciscan," he says. "I used to do a lot of work for the Franciscans – poetry readings, things like that – and I recall driving with this man one day. We went for a long drive, right the way from Dublin to the Francisco house in Galway. And he drove like a maniac.
"He would turn left when he should have turned right. He never gave a signal. And he was laughing and talking away. In the end, I had to say, 'Lucius, stop the car.' I said to him, 'I can't stand this. You're the worst driver I've ever seen. You don't take any notice of stoplights. You're mad!
"He said, 'Oh, dear, dear, Edward, of course. I'm terribly sorry. I s'pose y'see, it's because I have no fear of dying.' It struck me that a man who has no fear would be a pretty good guy to have around in certain circumstances. Just don't drive with him."
It concerns Woodward that there is so much gunplay in "The Equalizer". "I, like most actors who are involved in 'tough-guy' series, have a great problem with violence and I certainly am ambivalent about it," he says. "It's very easy to say, 'Violence is OK if it's not gratuitous', but that's always difficult to actually define.
"The violent aspect of any show worries me as a viewer and particularly as a father. I've always made sure with my older children – and Michelle and I make sure with our baby – that they  watch television shows that we really want them to watch. That's not a get-out. Not everybody is in a position or has the inclination to do do that. But the final arbiter of violence on television is the public."
Woodward is not ambivalent about his appeal to North American women. "I take it all with a pinch of salt and an enormous slice of humour," he says. "Television is all fantasy, and people like to vicariously fall in love with characters. If women are reacting that way, and I do keep being told by journalists that they are, if that helps the series, I'm all for it."
There's no much hope, though, for fans who wish to take things further. Woodward has been with the same woman, Michelle Dotrice, daughter of stage actor Roy Dotrice, for a number of years and they have a daughter, Emily Beth, who'll be 3 in July. "There is," says the Equalizer firmly, "no competition".