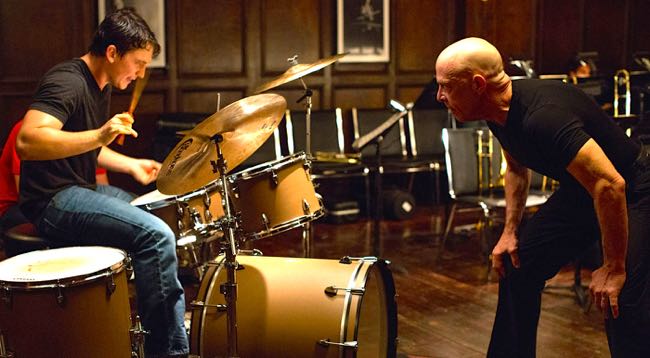 By Ray Bennett
"Whiplash" is a cracking little picture that draws on the philosophical notion that you can achieve anything so long as you're willing to sacrifice everything else, including blood.
A sort of "Full Metal Drumkit", in which percussion is the goal rather than munition, it resembles the first half of the Stanley Kubrick movie in which a drill sergeant metes out pain and and suffering. In that film, the victim was a draftee unprepared for the instructor's merciless treatment. In "Whiplash", Miles Teller plays Andrew Neyman, a volunteer who knows what he's in for and comes back for more.
Veteran character actor J.K. Simmons ("Juno", "Spider-Man") plays the demanding and inflexible jazz music teacher, Terence Fletcher, on the soles of his feet, crackling with energy. He is both the rock and the hard place between which Neyman's ambitions are caught.
Writer and director Damien Chazelle maintains a propulsive pace in painful sequences of relentless dedication as Neyman proves willing to bleed for his art and Fletcher visits more intense distress upon him – and his fellow students – with each session.
Bald and taut with penetrating eyes and fiercely sharp gestures, Simmons deservedly will clean up in all the awards as best supporting actor but Teller's performance also is estimable.
The film shows how Neyman's determination is fueled in contrast to his father's passive acceptance of failure as a writer with Paul Reiser sympathetic in that role. The teacher's brutal insistence that in art there is no gain without serious pain spills over into the student's love life as he explains to his loving and patient girlfriend (Melissa Benoist in a warm performance) that she will only get in the way of his ambitions.
At 105 minutes, perhaps there might have been time to show how the students dealt with their teacher's brutal technique when he was not around but it is clear that Neyman is a loner. Sharone Meir's cinematography and Tom Cross's editing are standout in a film with masterful jazz performances and the rush and fiz of an action movie.
Opens: UK: Jan. 16 (Sony Pictures) / US: Oct. 10 (Sony Classics); Cast: Miles Teller, J.K. Simmons, Melissa Benoist, Paul Reiser; Director: Damien Chazelle; Screenwriter: Damien Chazelle; Director of photography: Sharone Meir; Production designer: Melanie Paizis Jones; Music: Justin Hurwitz; Costume designer: Lisa Norcia; Editor: Tom Cross; Producers: Helen Estabrook, Jason Blum, Michel Litvak, David Lancaster; Executive producers: Jason Reitman, Couper Samuelson, Gary Michael Walters, Jeanette Volturno-Brill Production: Bold Films, Blumhouse/Right of Way Productions; Rating: UK: 15 / US: R; running time: 105 mins.