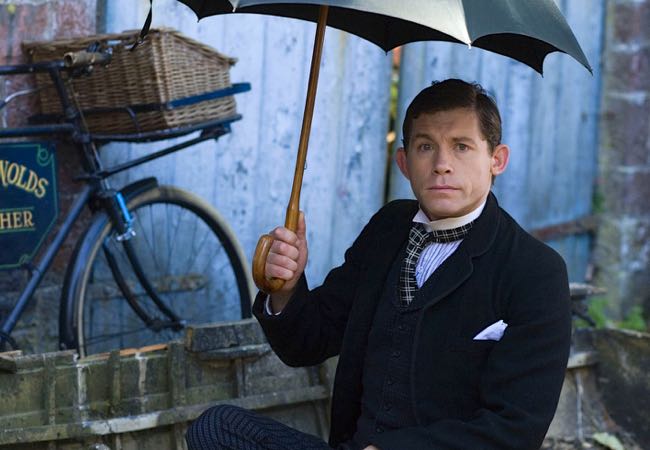 By Ray Bennett
LONDON — The fanciful style that H.G. Wells employed for his 1910 comic novel "The History of Mr. Polly" is difficult to transfer to the screen but ITV has done a good job with its new version thanks to some gorgeous settings and the extraordinarily expressive talents of Lee Evans.
The actor's genius for physical comedy and his ability to give facial expression to the subtlest thought or emotion combine to make Mr. Polly, a dull draper with a big imagination, an unforgettable character.
Set in Victorian England, it's the story is of a young man named Alfred Polly who finds everyday life stifling and dreams of faraway places and a life of grace and beauty. But shrouded by convention, he marries a cousin, Miriam (Anne-Marie Duff), and opens a clothing shop in a small seaside town where he becomes increasingly unhappy and broke.
Finally, he can take it no longer and so he burns down the shop for the insurance. He had intended to kill himself too but the razor hurts, so he abandons that idea. Instead, he saves the old woman next door from the fire and becomes a hero.
But when the fire insurance check arrives he sees his opportunity and, leaving the money for his wife, he heads off to find his dreams. They arrive in the form of a bucolic inn in the Sussex countryside run by a comely widow, Nancy (Julie Graham), who offers him a job.
His bliss is abruptly interrupted when the woman's nephew, Jim (Richard Coyle), turns out to be a brutal drunk who is determined to run Polly off, or kill him, he doesn't mind which. Now the question is whether or not Polly has the gumption to fight for his dreams.
The film looks gorgeous with cinematographer Nigel Willoughby capturing Adrian Smith's production design and the sumptuous greenness of Kent and Sussex. Director Gillies Mackinnon draws fine performances from an accomplished cast. Adrian Hodges's dialogue includes some of the meaningless words that Wells invented for Polly, such as "sesquippledan," "verboojuice," and "rapsodooce," and Evans delivers them with panache.
Graham and Duff expertly convey the differences between the two women in Polly's life, and Coyle makes a credible thug. Time is also given to minor characters with standouts including Trevor Cooper as the portly neighbor, Monica Dolan as Miriam's brisk sister Annie, Stan Stennett as gibbering Uncle Pentsetemon, Isabella Parriss as Nancy's daughter, a very droll little girl, and Jason Watkins as a deeply uninvolved vicar.
But the film belongs to Evans, who is a difficult actor to cast. He's made popular pictures including "There's Something About Mary," but his best appearance was in Peter Chelsom's 1995 "Funny Bones" as a brilliant comic. "The History of Mr. Polly" isn't in that class but it'll do for now.
Tonight at 9 on ITV1; Cast: Lee Evans; Anne-Marie Duff;  Julie Graham; Richard Coyle; Trevor Cooper, Monica Dolan, Stan Stennett, Isabella Parriss, Jason Watkins; Writer: Adrian Hodges; Producer: Katherine Lannon; Director: Gillies Mackinnon; Director of photography: Nigel Willoughby; Production designer: Adrian Smith; Art director: Sam Stokes; Costume designer: Charlotte Holdich; Editor: Scott Thomas; Music: James Edward Barker and Kim Despic.
This review appeared in The Hollywood Reporter