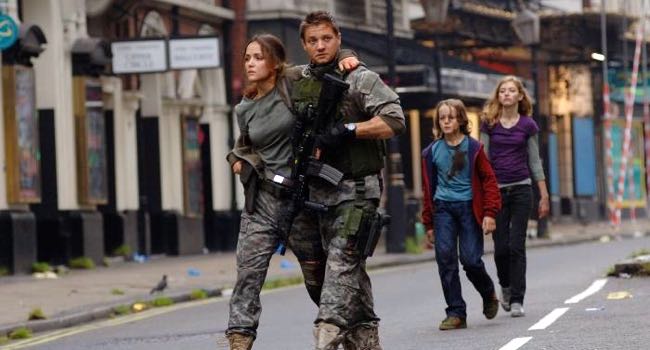 By Ray Bennett
When a movie costs an estimated $8 million to make and pulls in a reported $82 million at the boxoffice worldwide, a sequel is inevitable. What's not so predictable is that the sequel will be as good.
So it's pleasing to report that "28 Weeks Later," the follow-up to "28 Days Later," aims higher and hits the mark spectacularly. The sequel, which stars Robert Carlyle, Rose Byrne, Jeremy Renner and Catherine McCormack, opens Friday in the U.S. and the U.K.
Here's how my review begins in The Hollywood Reporter:
LONDON — Spanish director Juan Carlos Fresnadillo's "28 Weeks Later," a sequel to Danny Boyle's admired zombie chiller "28 Days Later," is a ferociously entertaining thriller with sympathetic characters, stunning set pieces and pulsating excitement.
Boyle and Alex Garland, who wrote the first film, are executive producers of "28 Weeks Later," which ups the ante on the story of Great Britain's population being almost completely wiped out by a virus that induces in human beings instant rage and the almost unstoppable impulse to kill. It should prove explosively infectious at the boxoffice.
Boyle and Garland chose Fresnadillo to direct "28 Weeks Later" after they saw  his debut film, "Intacto," a wildly visual yarn about extreme gambling. The English filmmaker, whose own sci-fi film "Sunshine" is still in release, says:
"I thought 'Intacto' was amazing, a terrific thriller with tremendous flare and energy as well as being a highly individual piece of filmmaking. We were looking for a filmmaker of some individuality who could bring something different to the film. London was such a big part of the first film we thought that getting somebody from outside the U.K. to come in and direct would be an interesting approach, as he would give the capital a fresh look.
"He's got one foot in two cultures, so he was an interesting guy to get, you know, rather than just get another Brit who probably would [have made] it much as I'd made the first one. So you need a kind of different eye on it, really. There's a great tradition at the moment in our cinema of Latin American and Spanish directors and it's great to be able to be part of it."