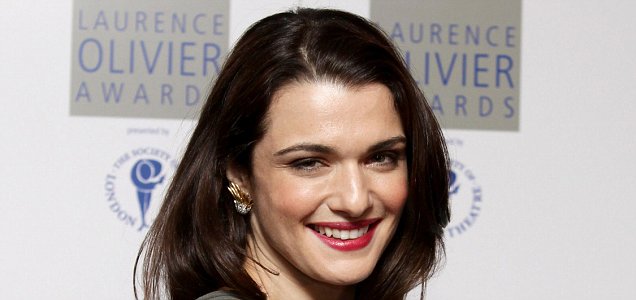 By Ray Bennett
Oscar-winning actress Rachel Weisz, who turns 45 on March 7, is Mrs. Daniel Craig now but there was a moment, a single moment, when she only had eyes for me.
It was at the Olivier Awards banquet on March 2, 2010, at the Grosvenor House Hotel on London's Park Lane. The glittering black-tie event was over and most people had departed. I spotted Weisz a few tables across with a female friend and went over to congratulate her on her win as best dramatic actress for the Donmar Warehouse production of "A Street Car Named Desire".
In my review for The Hollywood Reporter, I'd said that the star of "The Constant Gardner" and "The Bourne Legacy"  had succeeded brilliantly in the role of Blanche Dubois: "Weisz is exactly the right age for Blanche, and though she can do nothing to make her radiant features appear faded, she conveys acutely the woman's sense of loss and desperate need for emotional nourishment. She increasingly is delusional, but her love of artifice and style is apparent and it is clear why she is catnip to certain men."
As I approached, I saw that the actress and her friend were scurrying about staring anxiously at the floor. I asked if there was a problem. Few sights are as arresting as a beautiful woman in a gorgeous gown who clutches a hand to her naked right ear with a frantic look on her face.
"It's my earring", she said. "It's not expensive but they belong to a friend and they have great sentimental value. I've lost one."
The ballroom lights were muted and the area was a maze of tables with long heavy cloths, scattered chairs and the detritus of the evening. The light of a mobile phone was no help. Fortunately, I have had a lifelong affection for flashlights, especially small ones with a strong beam, and I had the right one on me.
I got down on my knees in my tuxedo, pocket torch in hand, and plunged into the thicket of billowing table cloths, chairlegs and discarded napkins. A few minutes later, I emerged successful.
Weisz said, "Oh, thank you. Thank you." I dusted off my knees and elbows, adjusted my bowtie and shot my cuffs. She clasped the jewel to her bosom and then threw her arms around me and planted a smacker. Stepping back, she said to her friend, "Now, that's a man!"
What happened next pleased me just as much. I asked her if she planned to perform "Streetcar" again, perhaps on Broadway. She said, "Oh, I'd love to but really you should meet Rob Ashford. It's all his doing." She took me by the hand and led me over to meet the man who had directed her play. Now, that's a woman!
Rachel Weisz might be James Bond's now, but I will always have that moment.