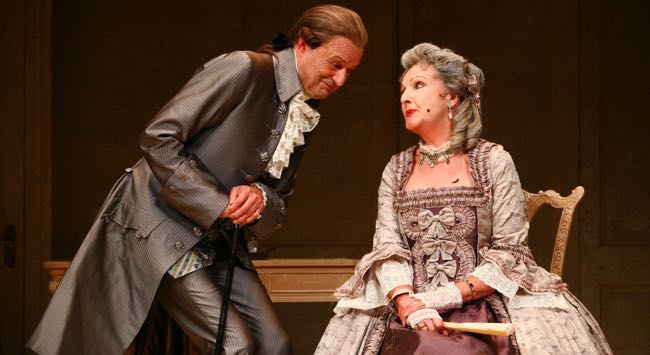 By Ray Bennett
LONDON – If Mrs. Malaprop did not exist (in fiction) someone would have to invent her. The trouble with Richard Brinsley Sheridan's 18th century comedy of manners "The Rivals", given a jewel-box revival at London's Theatre Royal, Haymarket, is that he did invent her, and while the occasional malapropism can be an amusing thing, a torrent of them soon wears thin.
Treated with dainty reverence by director Peter Hall, the production features performances as fastidious as Christopher Woods' eye-pleasing period costumes but what might have been satirical and funny in 1775 appears insufferably precious and irrelevant today.
Written 100 years before Oscar Wilde arrived to show him how to do it, Sheridan's play features the silly affairs of two couples embroiled in affairs of the heart complicated by parental wishes, societal conventions and cold hard cash.
What might once have been seen as a tasty confection that lampoons the sobriety, false piety and prejudices of the upper classes, now appears lame and pointless. Largely, that is because it simply isn't funny. What passes for wit, is laboured and dated, and the cast of mostly British TV veterans pitches it directly to the audience with a jolly nudge and wink.
Penelope Keith and Peter Bowles (pictured), who starred together in the late 1970s BBC-TV sitcom "To the Manor Born" (broadcast in the United States by PBS), star respectively as Mrs. Malaprop and Sir Anthony Absolute, and they nail every vowel and consonant as the fussy elders of Captain Jack Absolute (Tam Williams) and Mrs. Malaprop's ward, Lydia Languish (Robyn Addison).
Tom Cruise look-alike Williams and pretty blonde Addison pose and bluster as the young Absolute pretends to be a poor ensign in order to win the heart of Lydia in secret only to discover that the woman his father has arranged for him to marry is the very same Miss Languish. O, the hilarity!
Meanwhile, a country squire named Acres (Keiron Self) and a bumptious oaf named Sir Lucius O'Trigger (Gerard Murphy) also lust for Lydia, which is understandable but a bit distressing since she is only 17.
The Captain's solemn friend Faulkland (Tom Gardner) tortures himself with jealousy over his beloved, Lydia's cousin Julia (Annabel Scholey) while chirpy servants Fag (Martin Bishop) and Lucy (Carlyss Peer) participate in various deceptions. The laboured machinations lead to a duel that is resolved to just about everyone's satisfaction.
The oddest thing about the play, and perhaps it is Sheridan's best joke, is that no one reacts to Mrs. Malaprop's garbled language. They appear to understand her gibberish and never raise an eyebrow, let alone point it out. She's relentless, and to stick through the length of the play will require a glutton for punishment.
Venue: Theatre Royal, Haymarket, runsthrough Feb. 26; Cast: Penelope Keith, Peter Bowles, Tam Williams, Robyn Addison, Carlyss Peer, Annabel Scholey, Tony Gardner; Playwright: Richard Brinsley Sheridan; Director: Peter Hall; Set designer: Cordelia Monsey; Costume designer: Christopher Woods; Lighting designer: Jason Taylor; Sound designer: Gregory Clarke; Music: Mick Sands.
This review appeared in The Hollywood Reporter.