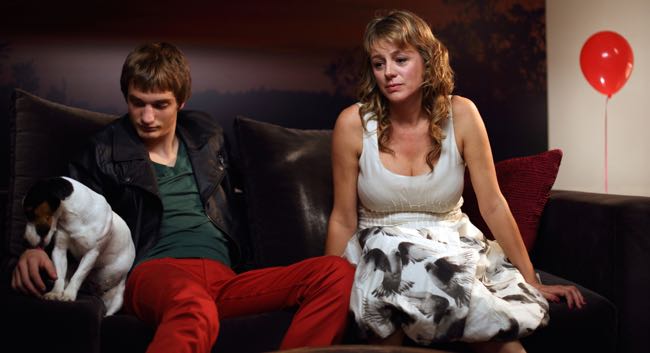 By Ray Bennett
KARLOVY VARY, Czech Republic – The title of Barcelona-born filmmaker Agusti Vila's "The Mosquito Net" refers to a story created by one of the characters about a girl who is scared to death because she's afraid of stepping on ants when she walks and won't use netting when she sleeps.
It's just one neurosis among the many that afflict everyone in the film as writer-director Vila spins a yarn of obsession and indulgence that could be a comedy if it were not so very, very dry and the events so close to tragedy.
Sometimes abrupt in its storytelling and withdrawn in the information it provides about characters, the film remains intriguing and the questions it raises stick in the mind. It should engage audiences with a taste for complex urban quandaries presented with Spanish flair.
A dysfunctional family is at the center of things with Alicia (Emma Suarez) the writer and illustrator of weird tales who indulges her teenaged son Lluis (Marcos Franz, pictured with Suarez) in his passion for bringing home stray dogs and cats.
The opening scene is very funny as Alicia and husband Miguel (Eduard Fernandez) come home to find yet another pup has been added to the menagerie, much to Miguel's annoyance.
Fighting over animals, however, is just one part of the couple's growing dissatisfaction with their marriage. Her increased distraction over getting her next project published and his growing insistence on tidiness in the home have led them to separate bedrooms. Things come to a head when their son brings home a wounded pigeon and Miguel smacks one of the dogs on the snout when it goes to sniff the bird.
They separate and each embarks on an affair, Miguel with their beautiful young immigrant maid Ana (Martina Garcia), to whom he has already begun to make fetishistic overtures, and she drunkenly with one of her son's school friends (Alex Batllori).
Meanwhile, Alicia's single-mother sister Raquel (Anna Ycobalzeta) is having a meltdown and has started abusing her young daughter and Miguel's aged parents (Geraldine Chaplin and Fermi Reixach) are dealing with her Alzheimer's and his suicidal tendencies.
The talented ensemble cast plays it straight but it's tempting to laugh at some of the behavior because much of it is absurd. The thread of lousy parenting and child abuse is so strong, however, that laughter sticks in the throat. It would be good to think that's exactly what Vila intended.
Venue: Karlovy Vary International Film Festival, Official Competition; Cast: Emma Suarez, Eduard Fernandez, Geraldine Chaplin, Marcos Franz, Alex Batilori; Director, writer: Agusti Vila; Director of photography: Neus Olle; Production designer: Leo Casamitjana; Music: Alfons Conde; Editor: Marti Roca; Producer: Luis Minarro; Production company: Eddie Saeta S.A.; Sales: Eddie Saeta S.A.; Not rated; running time, 95 minutes.
This review appeared in The Hollywood Reporter.