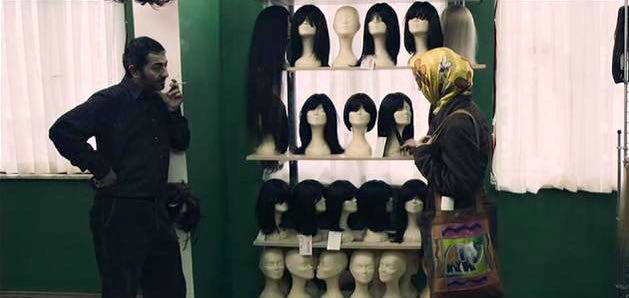 By Ray Bennett
LOCARNO, Switzerland – Turkish director Tayfun Pirselimoglu's "Hair" is a dreary and dispiriting tale of a wig seller dying of cancer who becomes obsessed with a woman married to a man who washes corpses for a living.
Shot in tawdry shops and dwellings, the film's drab and forlorn characters seldom have anything to say. In one long scene in a colorless room, the morgue worker eats a meal with his back to the camera while his wife sits on a couch watching television. Neither says a word.
Two hours of this is more than most viewers will likely want to sit through, and the film is unlikely to travel beyond its home market.
The wig seller (Ayberk Pekcan) is a slovenly, unshaven man who smokes constantly while trying to sell his products or buy long hair from needy women. When one woman (Nazan Kesal, pictured with Pekcan) cries as he cuts her hair, he begins to follow her around and his interest turns to obsession.
There's one small visual note of irony that a man who sells hair for a living is losing his own due to chemotherapy but the film could do with much more than that.
Venue: Locarno International Film Festival, In Competition; Cast: Ayberk Pekcan, Nazan Kesal, Riza Akin; Director, writer: Tayfun Pirselimoglu; Director of photography: Ercan Ozkan; Production designer: Natali Yeres; Editor: Erdinc Aydogdu; Production company: Zuzi Film; Not rated; running time, 120 minutes.
This review appeared in The Hollywood Reporter.