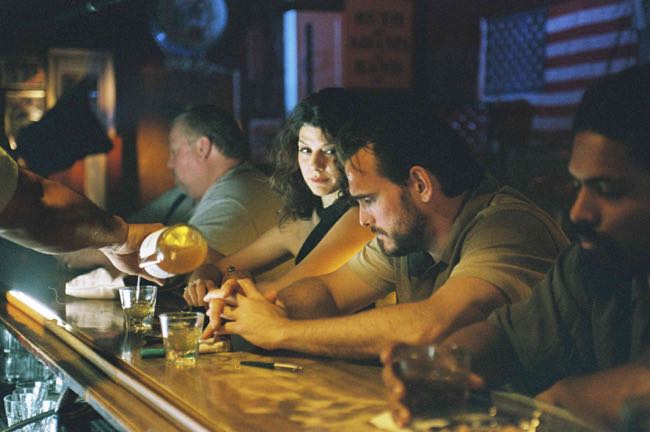 By Ray Bennett
CANNES – To get the famously sozzled street poet Charles Bukowski right on screen takes an appreciation of the man's taste for friends in low places and a keen avoidance of over-indulgence in his fondness for blowhard wino wisdom.
Bent Hamer mostly gets it right in "Factotum," a sweetly observed character study of a thoughtful man with a hair-trigger knack for irritating others and few illusions about where his appetite for cheap booze, easy women and the gutter will lead him.
Matt Dillon is pitch-perfect as Bukowski's alter ego Hank Chinaski, a down-and-outer who put in two years at journalism school but now drifts from one low-paying manual job to another. His life is mostly beer at noon, whisky at night and vomit in the morning. Dillon captures both the body language of a committed drinker and the laconic speech patterns that derive from deliberate thinking and a desire to articulate carefully.
Chinaski is a writer, although he says he's not ready for a novel yet. But he finishes three or four short stories a week and mails them off to magazines.
Bereft of society's usual notion of ambition, he's not above applying for a job as a cab driver even though he has on his record 18 drunk and disorderly charges and two for drunk driving.
Hank is soon fired from every job he takes, usually because if he's told he cannot smoke that's the first thing he does. He also has a tendency to drift away for a drink in the middle of the day. These episodes are told with tolerant affection and warm humor. In one instance, he's assigned to deliver bags of ice to local bars. He doesn't make it past the first one, forgetting to close to the truck's freezer door as he quenches his thirst.
Hank is an easy man to talk to, so strangers warm up to him whether it's in a bar or at a job center, and offer him their own take on life. "I've probably slept longer than you've lived," an old-timer tells him.
Women come along easily too and his encounters with Jan (Lily Taylor) and Laura (Marisa Tomei, pictured with Dillon) take up much of the film as they lead him to their very different environments, one rich, one poor. The common thread is always booze. Both actresses play their roles with insight and understanding and these encounters also are underpinned with subtle wit.
Hank also has a brief period of prosperity as he hooks up with a guy named Manny (Fisher Stevens) to play bookmaker for some sad-sack fellow workers at a bicycle parts supply center.
Minneapolis-St. Paul provides a fresh, if not always beautiful, backdrop to Hank's story, which is told with engaging languor. The picture has a fine malted look to it.
Bukowski's observations about love and life are related in a voice-over delivered by Dillon in a whisky-soaked voice that catches the essential humor and goodwill of the man. The movie doesn't particularly go anywhere but that's the point.
Venue: Festival de Cannes, Directors' Fortnight; Cast: Matt Dillon; Lily Taylor; Marisa Tomei; Fisher Stevens; Didier Flamand; Adrienne Shelly; Karen Young; Tom Lyons; Director: Bent Hamer; Writers and producers: Bent Hamer & Jim Stark; Director of photography: John Christian Rosenlund; Production designer: Eve Cauley Turner; Music: Kristin Asbjornsen; Editor: Pal Gengenbach; Executive producer: Christine Kunewa Walker; Not rated; running time, 93 minutes.