By Ray Bennett
LONDON – Rachel Weisz was named best actress in a play as Blanche DuBois in "A Streetcar Named Desire" (for which Ruth Wilson, pictured left with Weisz, was named best supporting actress) and Mark Rylance (pictured below) won as best actor for "Jerusalem" in the 2010 Laurence Olivier Awards presented Sunday evening.
"The Mountaintop" saw American Katori Hall become the first black female playwright to win the Olivier for best new play while Broadway transfer "Cat On a Hot Tin Roof" was named best revival.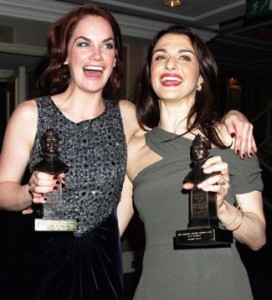 In musical honors, Broadway hit but London flop "Sweet Awakening" was named best new show with the production's Aneurin Bernard winning as best actor and Iwan Rheon for best supporting performance.  "Hello Dolly!" won as best musical revival with Samantha Spiro named best actress in the title role and Stephen Mear best choreographer. "Wicked" picked up the audience award for most popular show while Michael Wynne's "The Priory" won the best new comedy award and Tim Whitnall's "Morecambe" won as best entertainment.
The British equivalent of the Tony Awards came as West End theater celebrated its best ever year in 2009 with box office receipts topping £500 million ($751 million) for the first time with attendance breaking records at 14.26 million, up 5.5% from the previous year.
The awards, presented by the Society of London Theatre, were handed out a gala banquet at the Grosvenor House Hotel with presenters including Jude Law, Kim Catrall, James Earl Jones, Rupert Friend and Rosamund Pike. Two-time Academy Award winner Maggie Smith received a special award and the evening included performances from hit shows "Priscilla, Queen of the Desert," "Sister Act," "Blood Brothers" and "Les Miserables," celebrating its 25th anniversary.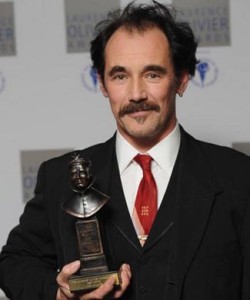 Oscar-winner Weisz was honored for the Donmar Warehouse revival of Tennessee Williams' "A Streetcar Named Desire," which also earned Ruth Wilson (2008 Golden Globe nominee in the title role of BBC miniseries "Jane Eyre") the prize for best supporting performance, playing Stella. Rylance, who won the 2008 best actor Tony Award for "Boeing-Boeing," won as the patriarch of an unruly family in Jez Butterworth's comedy "Jerusalem."
The play, which is sold out at the Apollo Theatre following an acclaimed term at the Royal Court, was heavily favored to win for best new play but lost to Hall's second play, "The Mountaintop." It follows Martin Luther King on the night before his assassination and had a nine-week run at London's Trafalgar Studios.
Hall's play also triumphed over John Logan's "Red", a hit Donmar production about artist Mark Rothko, which opens at Broadway's John Golden Theater on April 1, and Lucy Trebble's "Enron," about the company's financial meltdown, which is in a sold-out run at London's Noel Coward Theatre and opens at the Broadhurst Theatre on April 27.
Eddie Redmayne (Angel in the BBC's 2008 miniseries "Tess of the D'Urbervilles") won the Olivier for best supporting performance for "Red" and he joins Alfred Molina in the Broadway production while Rupert Goold, who directed "Enron" in the West End and also on Broadway, won the Olivier for best director.
"Cat On a Hot Tin Roof" closes at the Novello Theatre on April 10 following a successful run with some of the Broadway cast including James Earl Jones as Big Daddy and Phylicia Rashad as Big Mama.
Best new musical "Sweet Awakening," which picked up eight Tony Awards as a Broadway hit, earned great critical praise in the West End, but it closed after a short run at the Novello. Best musical revival "Hello Dolly!" had a hit summer run at the Regents Park Open Air Theatre.
This review appeared in The Hollywood Reporter.
WINNERS OF THE 2010 LAURENCE OLIVER AWARDS
BEST ACTRESS
Rachel Weisz for A STREETCAR NAMED DESIRE at the Donmar
BEST ACTOR
Mark Rylance for JERUSALEM at the Jerwood Theatre Downstairs at the Royal Court and now at the Apollo
BEST ACTRESS IN A SUPPORTING ROLE
Ruth Wilson for A STREETCAR NAMED DESIRE at the Donmar
BEST ACTOR IN A SUPPORTING ROLE
Eddie Redmayne for RED at the Donmar
BEST NEW PLAY
THE MOUNTAINTOP by Katori Hall at Trafalgar Studios 1
BEST NEW COMEDY
THE PRIORY by Michael Wynne at the Jerwood Theatre Downstairs at the Royal Court
BEST MUSICAL REVIVAL
HELLO DOLLY! book by Michael Stewart, music and lyrics by Jerry Herman, based on the play 'The Matchmaker' by Thornton Wilder at the Open Air
BEST NEW MUSICAL
SPRING AWAKENING music by Duncan Sheik, book and lyrics by Steven Sater, based on the play by Frank Wedekind at the Novello
BEST ENTERTAINMENT
MORECAMBE by Tim Whitnall at the Duchess
BEST ACTRESS IN A MUSICAL OR ENTERTAINMENT
Samantha Spiro for HELLO DOLLY! at the Open Air
BEST ACTOR IN A MUSICAL OR ENTERTAINMENT
Aneurin Barnard for SPRING AWAKENING at the Novello
BEST SUPPORTING PERFORMANCE IN A MUSICAL OR ENTERTAINMENT
Iwan Rheon for SPRING AWAKENING at the Novello
BEST DIRECTOR
Rupert Goold for ENRON at the Jerwood Theatre Downstairs at the Royal Court and now at the Noel Coward
BEST REVIVAL
CAT ON A HOT TIN ROOF directed by Debbie Allen at the Novello
BEST THEATRE CHOREOGRAPHER
Stephen Mear for HELLO DOLLY! at the Open Air
BEST LIGHTING DESIGN
BURNT BY THE SUN designed by Mark Henderson at the Lyttelton
BEST SET DESIGN
JERUSALEM designed by Ultz at the Jerwood Theatre Downstairs at the Royal Court and now at the Apollo
BEST COSTUME DESIGN
PRISCILLA, QUEEN OF THE DESERT- THE MUSICAL designed by Tim Chappel and Lizzy Gardiner at the Palace
BEST SOUND DESIGN
SPRING AWAKENING designed by Brian Ronan at the Novello
THE AUDIENCE AWARD FOR MOST POPULAR SHOW
WICKED music and lyrics by Stephen Schwartz, book by Winnie Holzman at the Apollo Victoria
OUTSTANDING ACHIEVEMENT IN AN AFFILIATE THEATRE
• The Royal Court for COCK at the Jerwood Theatre Upstairs
BEST NEW OPERA PRODUCTION
• The Royal Opera's TRISTAN UND ISOLDE at the Royal Opera House
OUTSTANDING ACHIEVEMENT IN OPERA
• Nina Stemme for her performance in the Royal Opera's TRISTAN UND ISOLDE at the Royal Opera House
BEST NEW DANCE PRODUCTION
• GOLDBERG: THE BRANDSTRUP ROJO PORJECT, ROH2 at the Royal Opera House
OUTSTANDING ACHIEVEMENT IN DANCE
• Rambert Dance Company for an outstanding year of new work
OUTSTANDING ACHIEVEMENT AWARD
• Michael Codron
SOCIETY OF LONDON THEATRE SPECIAL AWARD
• Dame Maggie Smith