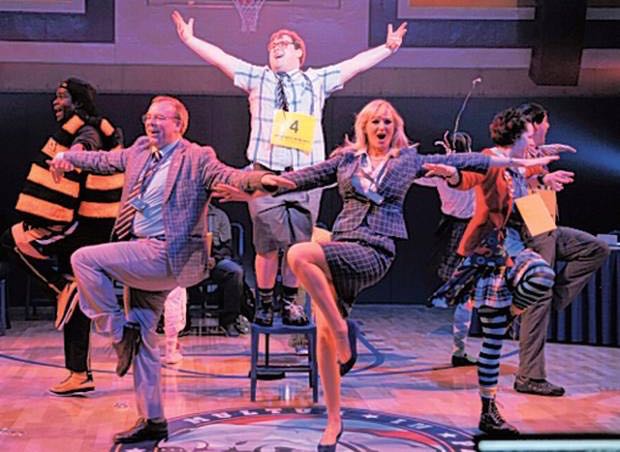 By Ray Bennett
LONDON – Lightweight, amusing and frothy, Broadway hit musical "The 25th Annual Putnam County Spelling Bee" seems an odd choice for the serious-minded Donmar Warehouse, but its U.S. high school hijinks and a cast full of fizz make it a welcome change.
As a motley assortment of teenagers strive to spell their way to success, Jamie Lloyd's lovely production lampoons the Donmar's sober tastes when the interlocutor uses "lachrymose" in a sentence: "Staging a musical comedy made a change from the theater's usual lachrymose productions."
Rachel Sheinkin's book won a 2005 Tony Award, and here it keeps a sprightly pace as the kids face their orthographic challenges with much fun derived from what obscure words mean and how they are employed.
William Finn's lively songs are filled with tongue twisters and outrageous rhymes, including one lyric by a young man in a state of inappropriate excitement who sings that his "unfortunate protuberance seems to have its own exuberance."
Christopher Oram's bright set resembles a high school gymnasium, with the seats in the Donmar's small venue changed to match classroom chairs, all a vivid blue.
Katherine Kingsley plays Rona Lisa Perretti, a former spelling bee champion and current real estate salesperson who brings all the ersatz charm of the worst of that profession to running the current contest.
Steve Pemberton, from British TV's "The League of Gentlemen," is Vice Principal Douglas Panch, a teacher with a murky past who tries to make the test as devilishly tricky as possible. One kid overanalyzes the problem and gives the answer "vugghe," thinking it to have arcane Cornish routes, when it is simply "vug."
The contestants include an overweight mother's boy (David Flynn), a space cadet (Chris Carswell), a future quarterback (Harry Hepple), an overachiever (Maria Lawson), a girl with a speech impediment and two fathers (Iris Roberts) and a lonely one whose mother is at an ashram in India (Hayley Gallivan).
They each get a chance to shine with Lawson, a sinuous firecracker as she demonstrates her six languages, proficiency in various sports and an ability to sing while dancing at high speed. Hepple keeps a song about a mistimed erection from being too vulgar, and Carswell plays a New Age kid named Leaf Coneybear with suitable bemusement.
Roberts keeps a joke about having a hard time with sibilants from becoming cruel, and Flynn makes the know-it-all momma's boy sympathetic and establishes stage chemistry with Gallivan as the girl who misses her mom.
Slim, blonde and brassy, Kingsley quivers the gymnasium's rafters in several numbers but also sings sweetly as the mother of one contestant. Ako Mitchell sings well and delivers some droll lines as a parolee whose community service requires him to dress in a bee outfit and provide comfort to the losing spellers.
The show has a pleasing gimmick in that four audience members are invited each night to join the spelling bee contestants. On press night, one of them was a critic from a London newspaper who acquitted himself with dignity; another was a young man who earned applause by getting a very difficult word right.
Donmar Warehouse, runs through April 2; Cast: Katherine Kingsley, Harry Hepple, Iris Roberts, Chris Carswell, David Flynn, Maria Lawson, Hayley Gallivan, Steve Pemberton, Ako Mitchell; Music and lyrics: William Finn; Book: Rachel Sheinkin; Director: Jamie Lloyd; Set designer: Christopher Oram; Lighting designer: Neil Austin; Sound designers: Terry Jardine, Nick Lidster for Autograph; Choreographer: Ann Yee; Musical director: Alan Williams.
This review appeared in The Hollywood Reporter.