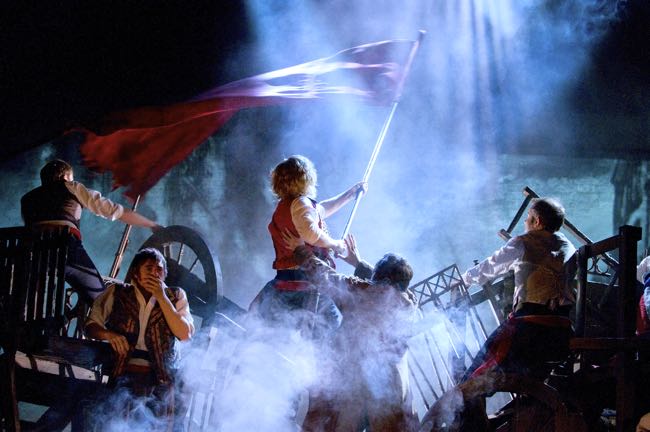 By Ray Bennett
LONDON – In a reasonable world, 25 years should see fans of strident caterwauling  sated sufficiently, but here is "Les Miserables" in a new production to celebrate the show's quarter century.
It has returned to London's Barbican from whence it came and it's a testament to that solidly built cultural center that its roof remains intact despite the relentless assault of orchestra and singers whose sole aim appears to be to blow it off.
Monotonous inflated music with banal lyrics is blasted out in an aggressively unpleasant production that treats audience members as if they were trapped in a wind tunnel. Perhaps once it was sung better and the "American Idol" style of belting has infected it.
There's no accounting for taste, of course, and some 50 million theatergoers reportedly have subjected themselves willingly to this abuse, but then 36 million people used to watch "American Idol."
Based on the epic Victor Hugo novel, "Les Miserables" tells of unrest in France over 20 years leading up to the Paris uprising of 1832. It follows ex-convict Jean Valjean (John Owen-Jones) as he tries to make his way in the world while harassed at every turn by obsessed police inspector Javert (Earl Cameron) who wants to return him to the slammer.
There's a woman named Fantine (Madaleno Alberto) who has a child named Cosette (Katie Hall) but Fantine suffers and dies and Cosette mostly just suffers. They each proclaim their misery in songs of yearning including a shrieked version of the hit "I Dreamed a Dream," which Susan Boyle sang to great acclaim on "Britain's Got Talent."
There's corrupt hotelkeeper Thenardier (Ashey Artus) and his rudely buxom wife Mrs. Thenardier (Lynne Wilmot), who are intended for light relief but whose songs are bitter rather than biting. There are assorted young men and women who weep and wail, and one who marches in step ahead of a stomping chorus as they all try to collapse the rear walls of the theater.
The show is sung-through so that ordinary conversation also is delivered in full voice, which only adds to the sense of being bombarded by perhaps talented vocalists who have been encouraged never to lower their tones.
Once celebrated for its impressive sets, the new production has been scaled down so that Hugo-inspired videos play as a backdrop. With no set changes, it propels along and its pulsating drive nullifies whatever charms the show might have had. No doubt there will be many who will have a different reaction but from here it's entirely appropriate that the English translation of the title is "The Wretched."
Venue: Barbican Hall, runs through Oct. 2; Cast: John Owen-Jones, Earl Carpenter, Madaleno Alberto, Katie Hall, Gareth Gates, Rosalind James; Music: Claude-Michel Schonberg; Lyrics: Herbert Kretzmer; Original French text: Alain Boublil, Jean-Marc Natel; Directors: Laurence Connor, James Powell; Set designer: Matt Kinley; Lighting designer: Paule Constable; Costume designer: Andreane Neofitou.
This review appeared in The Hollywood Reporter.