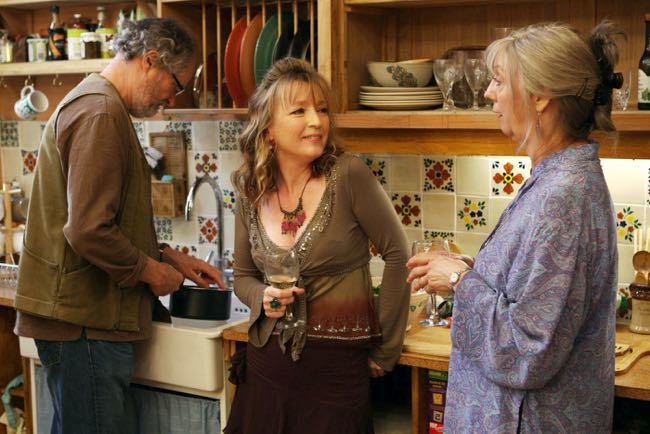 By Ray Bennett
CANNES – Mike Leigh's latest slice of British life picture is titled "Another Year," and many viewers will be grateful it's just the one. Acutely observed but gloomy and lacking narrative, it tells of 12 months in the life of a decent but dull suburban couple and their friends, most of whom you would go out of your way to avoid at a party.
The veteran British director draws typically skilful performances from his cast of mostly regulars and there are fine contributions from cinematographer Dick Pope and composer Gary Yershon. It's a sedate film without drama that festival juries could well fall in love with but moviegoers might decide that their own brand of misery is quite sufficient, thanks.
International box office will rely on Leigh's admirers and it will be a tough go in his homeland with austerity measures under the new government about to make people gloomy enough already.
There's no doubting Leigh's sympathy for the lonely and unhappy characters depicted in the film but while he and his talented cast do their best to suggest they are worthy of attention, it's not easy to see especially why.
Divided into the four seasons, the year depicted includes a birth, a funeral and expectations of a wedding but the title itself makes no promise of excitement. Pope's images of the changing weather are among the films pleasures along with Yershon's elegant score for string quintet, which complements Leigh's use of lingering close-ups.
Jim Broadbent and Ruth Sheen play happily married Tom and Gerri, who lead industrious lives at work and at home. He's an engineering geologist and she's a medical counsellor, and their 30-year-old son Joe (Oliver Maltman) is a community lawyer. They tend their piece of vegetable garden at the local allotments, read and worry about the environment, and cook dinners for friends and family.
These include Mary, a secretary at Gerri's clinic, who drinks too much, talks too much, and usually overstays her welcome. Lesley Manville (pictured centre with Broadbent and Sheen) brings this sad and rather desperate character to life in a performance that will garner considerable acclaim. She pitches Mary's voice to match her degree of giddiness, anxiety and need, and shows a mastery of facial expression that conveys her gradual awareness that she has allowed life to pass her by.
Another friend, Ken (Peter Wight), overweight, drunken and divorced, is in a similar plight and while Gerri and Tom show concern and tolerance, they have little to offer either of them much by way of concrete help. Other Leigh veterans including Imelda Staunton and Phil Davis show up in small roles and, like the wonderful stage actor David Bradley as Tom's bereaved brother, they are gifted in the use of silence and nuanced tones to deliver Leigh's cryptic lines.
Broadbent and Sheen bring a sly touch of smugness to the apparently contented but quite boring central couple, and perhaps Leigh intends them to be not quite as nice as they appear. Late in the film, an angry and disaffected nephew named Carl makes a brief but striking appearance. Played with focused intensity by Martin Savage, he's only on screen for a couple of scenes but when he departs in a temper, it's tempting to ask the director, would he mind terribly if we went with him?
Venue: Festival de Cannes, In Competition; Cast: Jim Broadbent, Lesley Manville, Ruth Sheen, Oliver Maltman, Imelda Staunton, Phil Davis, David Bradley; Director, writer: Mike Leigh; Director of photography: Dick Pope; Production designer: Simon Beresford; Music: Gary Yershon; Costume designer: Jacqueline Durran; Editor: Jon Gregory Ace; Producer: Georgina Lowe; Production companies: Thin Man Films, Film4, Untitled 09 Ltd.; Sales: Focus Features; Not rated; running time, 130 minutes.
This review appeared in The Hollywood Reporter.